What started as a regular antivirus solution for Windows has not reached enterprise and offers top-class security solution. Microsoft Defender ATP or Advanced Threat Protection has got top-scoring in industry tests for both antivirus solutions and security system.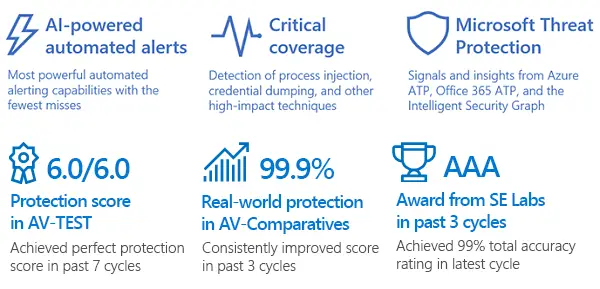 Microsoft Defender gets top-scoring in industry tests
AV-TEST: Protection score of 6.0/6.0
Defender ATP gets 6 of 6 from last six cycles in AV-TEST Product Review and Certification Report. The test results are based on protection, performance, and usability. During the test, 2,735 malware samples were used. Also called as  Real-World Testing and the AV-TEST reference set (known as "Prevalent Malware").
AV-Comparatives: Protection rating of 99.9% in the latest test
In this business security test, three scenarios where considered.
Real-World Protection Test which mimics online malware attacks
Malware Protection Test where the malware enters the system from outside the internet (e.g., USB),
and the Performance Test, which looks at the impact on the system's performance.
SE Labs: Total accuracy rating of AAA in the latest test
SE Labs tests to detect if the software or service can detect or protect against attacks, including endpoint, network appliances, and cloud services.
MITRE: Industry-leading optics and detection capabilities
Its another test which focuses mainly on software or service capability to detect techniques commonly used by targeted attack group APT3 (also known as Boron or UPS) and ATT&CK framework. Microsoft Defender ATP was able to mitigate the attack because of its strength of threat intelligence, and the advanced, automatic detection through machine learning, heuristics, and behavior monitoring.
Microsoft shares that there are over 100 million new threats every day and these threats are only 1% of that, i.e., a million tests across 20 or 30 products.
The security system needs to keep evolving and predicting what could happen next or and maybe prevent before happening.
Read more about it at the official post.