July is a big month for Microsoft as the Redmond-based multinational IT Giant prepares for some major releases this summer. Microsoft is releasing Visual Studio 2015, Windows 10, and the Universal Windows App Development Tools, that includes the Windows 10 SDK.
Here is a list of big releases:
July 20th – Visual Studio 2015 RTM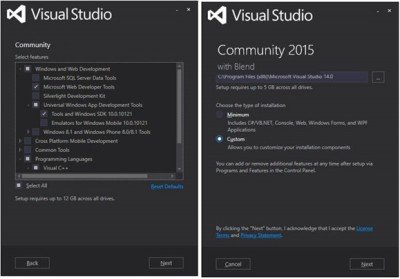 Visual Studio 2015 RTM is releasing on July 20th with Microsoft opening the tool to developers targeting new platforms – stating from cross-platform mobile development of iOS, Android and Windows, to game development such as Unity, Unreal, Cocos and more. Releasing on the same date is Team Foundation Server 2015 and .NET 4.6.
Microsoft is inviting participants to join on July 20 at 3:30 pm UTC (8:30 am PDT) to watch the Visual Studio 2015 final release event online. The event shall cover the new features and technologies that Visual Studio 2015 is bringing in.
July 29th – Windows 10
Perhaps the biggest release and most awaited one, Microsoft is releasing its latest OS Windows 10 on July 29th. It is expected that the final version shall contain improvements build over the feedback of the Windows 10 Insider Preview.
July 29th – Windows 10 SDK and the Visual Studio Universal Windows app development tools
Microsoft is also releasing Windows 10 SDK and Universal Windows App Tools on July 29th along with Windows 10. Microsoft says that the release version of Visual Studio 2015 will not work with the pre-release versions of the Windows 10 SDK and Universal Windows app tools so you won't be able to develop a Universal Windows Platform (UWP) app.
Emilio Salvador Prieto mentions on the Windows blog,
"We recommend that you wait to install VS 2015 RTM until July 29. Until that date, continue using the VS 2015 RC that you have today. When Windows 10 becomes available on July 29, you can install Windows 10, then VS 2015 with the Universal Windows App Development Tools. You can then continue working on your Windows 10 apps and targeting he Universal Windows Platform with no interruption".
With lots of releases in sight, expect users to have an eventful July.