If you are looking for some good information on trends in cyber security for this year, then Microsoft is here for your help. Microsoft has recently published a free-to-download e-book on cyber security trends, titled as "2016 Trends in Cybersecurity: A Quick Guide to the Most Important Insights in Security".
As the name suggests, the e-book consists of 10 most important trends in cyber security, which are researched by the Microsoft experts over the past 10 years. The e-book is a top-level report, designed to deliver these 10 trends that are extracted from the 190-page Security Intelligence Report.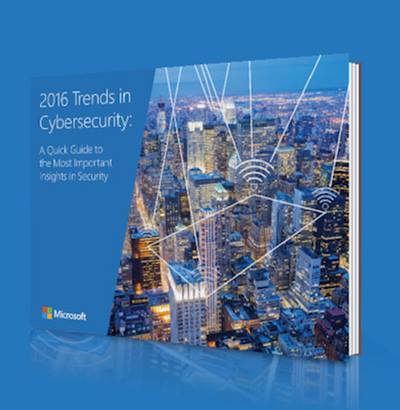 Contents of Trends in Cybersecurity 2016 e-book
The e-book on Trends in Cybersecurity of 2016 comes handy when it comes to knowing the security concerns in today's ever-changing world. Apart from the trends in cyber security, the e-Book also includes important points such as where the liabilities hide, and how to prevent them. These 10 trends are enlisted in different chapters of the books. The 10 top-most trends in cyber security of 2016 are as follows:
Severity of Vulnerabilities
Declining Java Exploits
Stronger Enterprise Protection
Global Security Concerns
Extent of Exploits Kit
Most Commonly Detected Objects
New Application Vulnerabilities
Increased Trojan Levels
Continued Complexity of Threats
Platform Agnostic Vulnerabilities
The book consists of a detailed explanation on each of the trends in cyber security of 2016. The report also mentions why a particular trend matters to the enterprise and security leaders. This detailed narration of the trends also helps readers to understand how to deal with potential attacks.
Some of the trends in cyber security of 2016 mentioned in the e-book are:
Severity of Vulnerabilities: Microsoft's researchers mention that nearly 41.8% of all vulnerability disclosures are rated as highly severe—a three-year high.
Stronger Enterprise Protection: This particular trend is included in the e-book because Microsoft's researchers found some alarming numbers. They mention that the consumer computers encounter 2X the number of threats as compared to enterprise computers.
Global Security Concerns: Locations with the highest malware infection rates were Mongolia, Libya, the Palestinian territories, Iraq, and Pakistan.
Increased Trojan Levels: Encounters with Trojans, a prevalent category of malware that uses social engineering to trick users, increased by 57 percent, and remained at elevated levels.
You can also download the free e-book on Trends in Cybersecurity of 2016 from here by registering yourself.