Writing is a serious business, and the editors of this generation are blessed that there tons of tools out there that can help them. While they can never replace the creative aspect of writing, they always help top figure out issues related to grammar, using alternate words, and more. Today, Microsoft has announced an AI-based intelligent writing assistant — Microsoft Editor. Here is a list of all the Microsoft Editor features and their availability.
Microsoft Editor Features
The assistant is ready to help editors in 20+ languages and is available not just on Microsoft products, but thanks to the extension, it will work everywhere. All this is free, but you need to sign-in with a Microsoft account.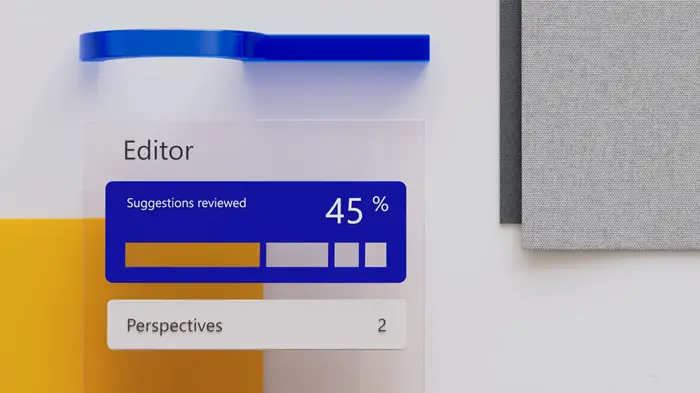 If you are using Microsoft 365 Personal and Family subscription, you get access to advanced grammar and style refinements. It includes clarity, conciseness, formal language, vocabulary suggestions, and much more. There are three ways to access & use the Microsoft Editor
Microsoft Office Documents ( Word on web and desktop)
Outlook .com and Outlook Client for Emails
Everywhere else through a browser extension.
Microsoft Office 365 users get some additional features.
1] Microsoft Office Documents (Word on web and desktop)
Analysis: 
It offers statistics on readability, distinct words, and time to read your document
Similarity Checker
Also called as Pallagrism checker. This feature will help you identify if the content is not original, and is copied from the internet. It can also be used to make your content unique if there are similar words or content which you could have written because of the standard writing style.
Rewrite suggestions
If you are tired of writing the same way all the time, the AI can suggest full-sentence rewrites. Microsoft claims that it will help you to optimize your writing for fluency, conciseness, or readability. However, it is only available in Word for the web in English only
It is not the first time Microsoft has attempted with AI; in 2018, Microsoft rolled out AI-Powered To-Do feature for Word.
2] Outlook .com and Outlook Client for Emails
When using Outlook and Outlook.com, the editor offers spelling and grammar capabilities for free to Outlook.com users. If you are using Microsoft 365 subscribers, then it will extend the advanced style-oriented capabilities as well.
3] Browser Extension
If you use Grammarly, the extension offers something similar. Useful when you make a post on the professional or social website. The editor will flag misspelled words and grammatical errors.  Microsft plans to release the extension for Chrome and Edge in the next few weeks.
Microsoft Editor will begin rolling out today, with general availability by the end of April.
You can read more at the official announcement post.You can also read about Microsoft 365 Personal and Family.