Microsoft is expanding the presence of Cards View in Excel mobile apps. It's been a couple of weeks since Microsoft is rolling out Cards View to Android and iOS users. Meanwhile, the roll-out is expected to be complete by the end of this week.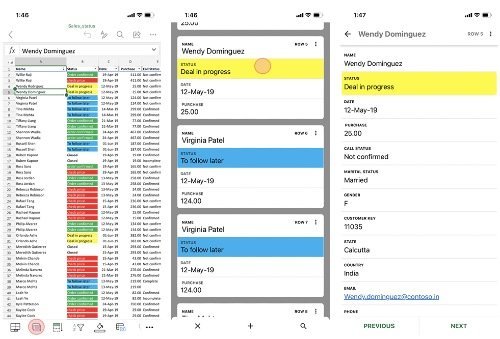 Card View feature in Excel mobile apps
It can be extremely difficult and painful to operate large spreadsheets on a mobile device since columns often span beyond the screen limit. Plus, keeping the track of which columns you are viewing is equally difficult as you scroll across the columns of your spreadsheet.
This is exactly what Microsoft wants to fix by rolling out Cards View to Excel mobile apps. Announcing the update, Microsoft wrote:
"We know all know it can be hard to work with a large spreadsheet on a phone. Columns often span beyond the limits of a screen and as you scroll to view the data in the farther columns it can be difficult to keep track of which row you are viewing. Cards View in Excel was designed to fix that problem."
Cards View allows Excel mobile users to view and edit spreadsheets easily, especially in a format that fits within their phone's screen.
If you are viewing a spreadsheet in Office or Excel smartphone apps, all you need to do is simply tap on the Card View icon, which will be available in the bottom left corner.
Open an Excel spreadsheet that contains a table.
Tap a cell inside the table
Now, then tap the Cards View button.
Excel will show a list of cards.
Browse through the list by scrolling
Use the search button at the bottom
Once you tap on the Card View icon, you will come across a collection of cards, which contain data from each row of the spreadsheet.
Card View feature doesn't affect the core functionality of working with the data. The feature makes it easier to work on one screen, enabling a hassle-free experience.
As a user, you can scroll through the cards to view different rows of data within the spreadsheet. What's more, you can also search, edit the data in a row. You can also view an entire row of data all at the same time.
Recently, Microsoft announced the new Excel LET function that makes it easier to reuse portions in the formula.