Microsoft never looses an opportunity in adding new and improved features to its search engine, Bing. So, today's announcement of added categories to the search engine shouldn't come as surprise to you.
Earlier, when people searched for something using Bing, it showed results pertaining to celebrities, politicians, athletes or people with publicly available LinkedIn profile. Now, it will include more than humans.
Bing Autosuggest feature
Bing will now automatically suggest brands, movies, albums, places, software, sport teams, animal species, and more. For instance, if you will enter the keyword as "pitbull" in Bing Search box, the search engine will show results of a dog breed in addition to the artist (a person). It will serve up thumbnails with both the person and the dog!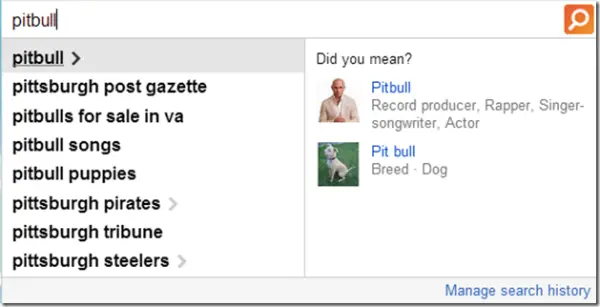 In order to make these distinctions, Bing utilizes an underlying technology we call Satori that understands the relationships between millions of people, places and things providing you with a more useful model of the digital and physical world. All of this computational power allows you to select the most appropriate choice in a matter of milliseconds, explains Microsoft.
Microsoft promises more updates in the near future so, stay tuned!
Try it out for yourself and let us know how you like it.