Last year in July, Microsoft's Bing division had launched Bing tags which allowed users to tag themselves and their friends in pages across the web. Stepping ahead, the Bing team announced the feature availability of Bing tabs over a more wider and public scale.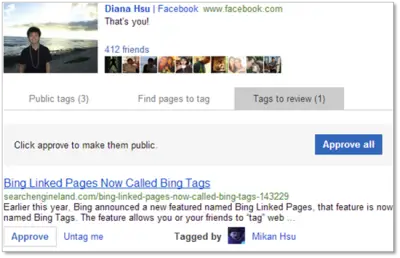 After connecting their Facebook account with Bing, users can now tag themselves and their friends either on a search result page, a Twitter page, a blog or just any web page. This would mean that the tagged content, with prior approval from the user in principle, will be displayed in the search results to a much broader audience allowing the user to highlight the tagged content and also use it as a later reference.
"You can also help your friends by tagging relevant pages about them. Was your friend quoted in the local paper, or published in an online journal? Or maybe they have a fantastic photo blog to show off? Just tag your friends to show them some love, and once they've approved the tags, the pages will appear on Bing." – Diana Hsu, Program Manager, Bing Social
However, the visibility of a tagged post depends on the tagged user's approval with which the content may be shown outside the network else wise a user may choose to decline the tag, hence limiting the content's visibility.
 "And if you're an existing Bing Tags user, don't worry. Your tags are only visible to friends until you approve and make them public."
Head over to Bing Tags to tag along!