Microsoft's Expressive Pixels app is now available to download on Windows 10 for free via the Microsoft Store. As the name suggests, the Expressive Pixels app will let users express themselves using visuals or emoji on an LED device. Using Expressive Pixels, Microsoft hopes to take your non-verbal, visual communication to a whole different level. Plus, Microsoft also wants developers and designers to benefit from this tool.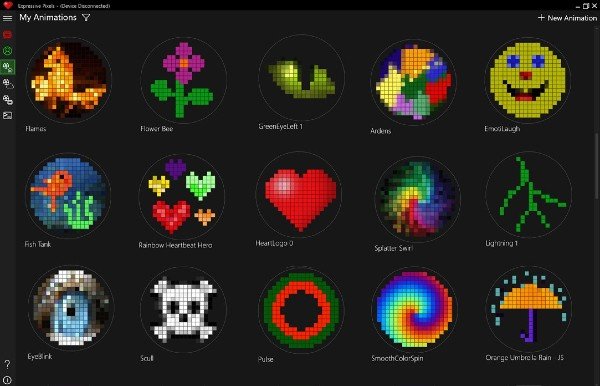 Microsoft launches Expressive Pixels
Let's see what the Expressive Pixels app is all about. Microsoft Expressive Pixels lets users create static images and animations. These images and animations can be shared on LED displays and other digital devices including a PC. In its recent blog post, Microsoft wrote:
"The Expressive Pixels project incorporates years of a deep and meaningful collaboration between the Enable Group at Microsoft and people with severe speech and mobility disabilities to try to understand their perspectives, needs and problems as they pertain to communication, creative expression, identity, and human connection with a focus on augmenting traditional AAC devices with novel experiences that serve as proxies for non-verbal communication, personal and creative expression, social cues and device status."
Although a Microsoft Research initiative, some of the key features of the Expressive Pixels app include animation, authoring, pixel editing, cloud sharing, and LED display.
How to get started with Microsoft Expressive Pixels
Microsoft Expressive Pixels is compatible with a PC running the Windows 10 May 2019 update or higher. You can easily download and install the Expressive Pixels app on your Windows PC from the Microsoft Store. Ensure that you also have a compatible LED display device and a USB data cable. The app is available in the English version. Microsoft Expressive Pixels supports open-source hardware including addressable LEDs.
You can connect your LED display device in Expressive Pixels using a USB cable or pair via Bluetooth. You can pair multiple LED display devices you can only connect to one LED display device at a time. To prevent cyberattacks, Microsoft claims the firmware integrates AES128 security.
In related news, Microsoft is working to expand the emoji picker feature in Windows 10. In addition to emojis, Windows 10 users will be able to search for GIF animations in the near future. The upcoming Windows 10 changes are currently limited to Windows Insiders.