Microsoft has filed a DMCA complaint against a tech website. Earlier this week, an ISO claiming to that of "Windows 11" was leaked, making tech enthusiasts get all excited about the UI changes and other improvements.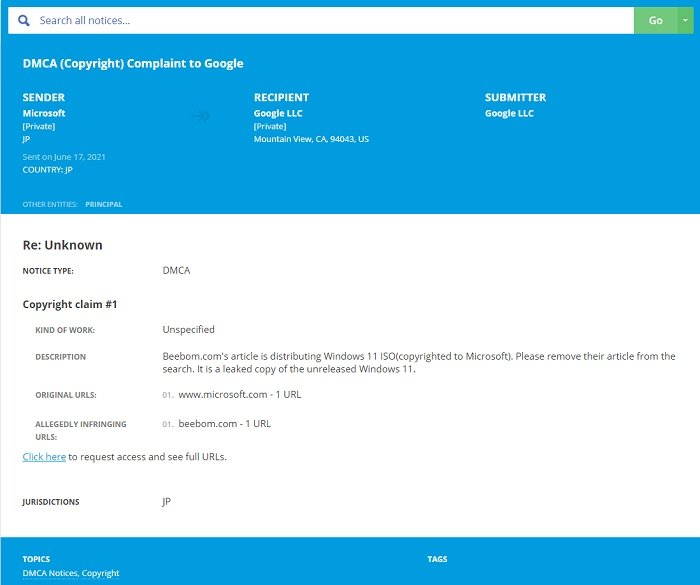 Microsoft files DMCA Takedown Notice
Microsoft Japan has registered a DMCA complaint against the Beebom technology for leaking and distributing the copyrighted and unreleased 'Windows 11' ISO. Microsoft has also asked Google to take down Beebom's article from the search results.
"Beebom.com's article is distributing Windows 11 ISO (copyrighted to Microsoft). Please remove their article from the search. It is a leaked copy of the unreleased Windows 11, says Microsoft.
The wordings of the complaint confirms the impending release of Windows 11, reports Fossbyte.
While the internet is still going crazy over the leaked version of Windows 11 ISO, Microsoft has announced a live stream of a Windows event on their web with a title saying, "Join us to see what's next for Windows". The event will supposedly announce the official release of Windows 11.
However, it is a leaked version and nothing is yet official announced by the company, Windows 11 will reportedly bring an all-new user interface and some functionality improvements. As per the rumors, the new UI looks very modern and polished and there are certain specific changes in taskbar elements too. Some more rumors about the new set-up screens and their modern look are all over the web. There are no specific details mentioned anywhere about the Microsoft Store yet.
These are all the rumors floating all over the internet and there is no official word from the company yet.
We are all too excited for the upcoming Microsoft Event to be live-streamed on June 24, 2021, wherein the company will supposedly reveal it all officially.