Soon after Windows 8 was launched, Microsoft announced an exclusive offer for present Windows 7 users to experience the new Windows 8 environment through a simple upgrade. This upgrade would cost them a meager US $14.99 (INR 699) against the regular US $39.99 but was only valid for users having a genuine Windows 7 copy and a valid license sporting a purchase date after June 2, 2012.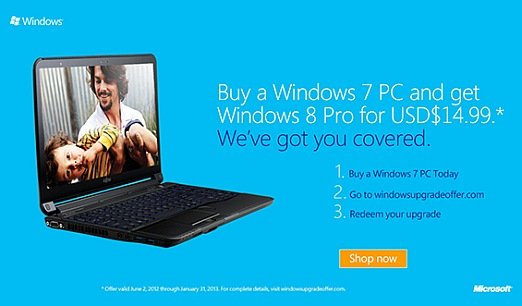 However, while availing of the Windows 8 Upgrade Offer, the form never asked for the Windows 7 license key but instead directly dispatched the promo code upon filling the blanks for a few specific details like brand, model, date of purchase et al. This eventually triggered a notion among users who may not have had genuine Windows copies, to apply for the Windows 8 upgrade and immediately avail the promo code and enjoy the brand new Windows 8 OS at just $14.99.
Anyone with even a pirated version could take advantage of this offer. Even if you had bought a Windows computer before June 2012, you could get the promo code. Whether anyone was actually able to buy the Windows 8 upgrade license is unsure, but many bloggers and forum members had started talking about it.
Having been tipped off or upon sensing an unusual rate of activity, Microsoft seems to have fixed this loophole which allowed almost any user to get a Windows 8 Upgrade Promo Code pretty cheap. The upgrade form now asks for the license key from the user and later verifies it against its validity and date of activation.
Windows 8 has had some pretty impressive sales figures with more than 4 million upgrades been done in a span of just three days, not to forget the existing 650 million Windows 7 user base. With such a huge market ahead of them coupled with the interesting and user-friendly features of Windows 8 / Windows RT, Microsoft seems to be inching close towards make Windows 8 a success.