Microsoft earlier was averse to the idea of Open-source software but that's a thing of the past. The recent announcement from the software giant indicates the change of guard. Yes, Microsoft has decided to add Azure support of FreeBSD. As mentioned earlier, the action signals dropping of the old line of thinking and shedding all inhibitions especially at a time when Satya Nadella is at the helm of the affairs. Microsoft now loves Open Source!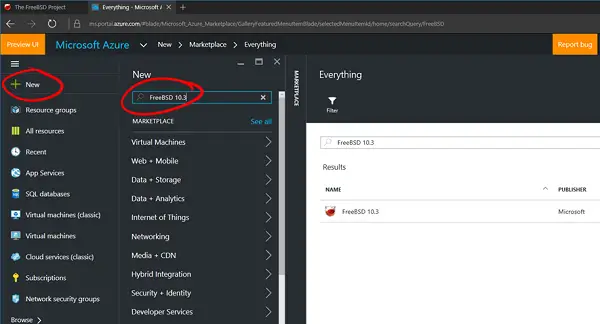 Microsoft's FreeBSD operating system
FreeBSD is an open source Unix-like operating system which happens to be a direct descendant of BSD, a version of Unix. Earlier, when a user wanted to run FreeBSD image in Azure, he/she had to bring a custom image from outside. this has changed since Microsoft has published a distribution of FreeBSD 10.3 and made this operating system supported and available in Azure. While Free BSD has similarities to Linux, it has some major differences.
Jason Anderson Principal PM Manager, Open Source Technology Center writes on the Azure blog,
Many top-tier virtual appliance vendors base their products on the FreeBSD operating system so it was important for Microsoft to bring FreeBSD to Azure. It was first enabled to run on Hyper-V, but in their blog post today, Microsoft stated for the past two years they have been working with "Citrix Systems, Array Networks, Stormshield, Gemalto and Netgate to bring their virtual appliances to the Azure Marketplace.
Due to the above reasons, Microsoft is making available FreeBSD 10.3 as a ready-made VM image in Azure, complete with technical support from Microsoft engineers. Setting up FreeBSD in Azure is a pretty easy process. All you need to do is run through the Azure Portal, click on the +New button in left pane and type FreeBSD 10.3 to get started.
For more on the story, visit Microsoft Azure Blog.