The Microsoft Garage has come up with yet another fresh offering. It's called the Journal inking app, the company's ink-first application for individuals who love to write instead of type.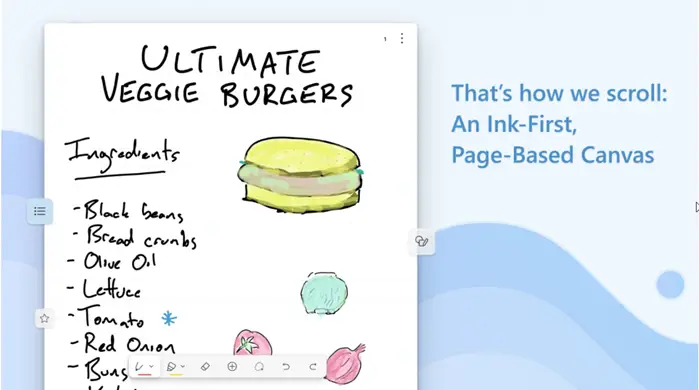 Microsoft Garage Journal Inking app
Microsoft Journal app is powered by local AI that detects everyday writing like headings, items you starred, drawings, keywords, etc. It then puts a little cue on the side of the page. You can tap it to quickly select the associated content and can take necessary actions like Move or Copy (as ink, or as Text).
The app basically tries to figure out what it is you're inking and offers suggestions to manipulate that text. For example, the app makes it simple and intuitive to erase quick spelling mistakes with a scratch out. You can select content just by circling it or tapping with your finger.
Earlier, when you needed to erase something, you had to switch to the eraser tool or flip the pen. Similarly, when you wanted to select something, you had to switch to Lasso mode or hold the side button of the pen. Both were powerful capabilities, but not necessarily intuitive or fast. Journal reduces this cognitive load of using digital ink so you can focus on your thoughts and you're writing.
Today we're excited to release Journal, a Microsoft Garage project. This new, personal inking incubation is powered by AI to help you write. It super-powers your everyday writing, enables new gestures to keep you in the flow, and provides new ways to search and filter to find your content. Oh, and if you have a Microsoft 365 work or school account, you can take personal meeting notes easily, wrote the Garage team in a blog post.
Microsoft Journal features in a nutshell.
The ability to drag-and-drop content.
Microsoft 365 integration to access your Calendar for faster meeting notes
Ink gestures.
Word and sentence selection.
Support for importing PDFs.
Images annotation.
Filter and keyword searches, etc
The Journal app uses scrolling canvas so, there's no option for panning or zooming. Also, because this is a Microsoft Garage project, users may experience bugs and other issues. It's also likely that the app may not roll out as a full-fledged application.