A new research development made by Microsoft, lets users with challenges sign their own signature using their eye gaze. Sight Sign, a new app developed for Windows 10 by Microsoft Garage lets users ink in their own signature and instruct the robot to reproduce the signature writing when hooked up via USB.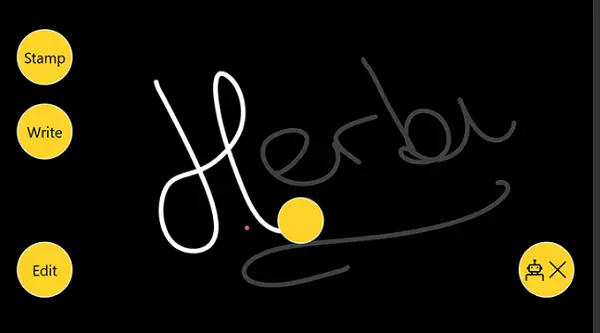 Sight Sign app from Microsoft Garage
Sight Sign primarily showcases three technologies working together:
Eye input
Inking
Robotics
The app claims to be "eye gaze" enabled which indicates once the ink is saved, users can control the robot with their eyes, mouse, keyboard, or other assistive technology.
Although the robotic arm should be purchased, the application, source code, and 3D schematics are all available freely.  The robot has been modified to an extent where it can increase the accuracy of imitating the ink by manifolds. You can know more about its schematics and reasoning on GitHub.
Background
Sight Sign was inspired by New Orleans Saints' Steve Gleason, made famous with an epic blocked punt against the Atlanta Falcons, in the first game played in the New Orleans Superdome after Hurricane Katrina.
In January 2011, Steve was diagnosed with ALS, considered a terminal neuromuscular disease. Beyond his faith that there is a solution to heal, it is his mission to show that patients can not only live but thrive after this diagnosis. In doing so, he hopes to inspire others to do the same.
Every work requires collaborative action to achieve the desired results. This holds true in the case of Sight sign project too. Six people across three different organizations joined hands to give life to this project. Each of them shared similar interests and passions to empower people with disabilities to achieve more.