A confidential report obtained by the Washington Post reveals that via a $20 million data collection program known as PRISM, many US-based Internet companies like Google Facebook, Yahoo, PalTalk and other bigwigs like Apple and Microsoft have leaked their users information to the National Security Agency & FBI organization of the US government.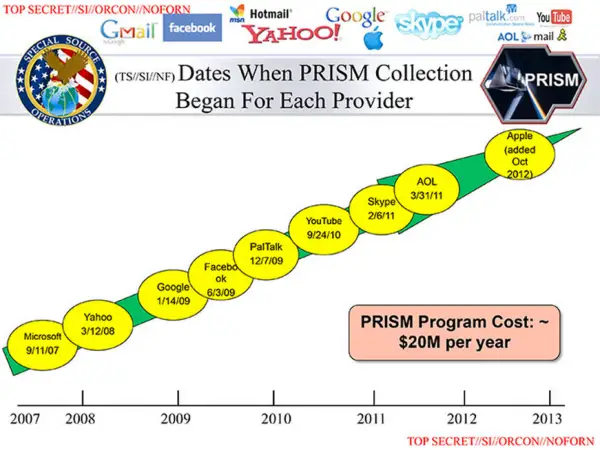 The data collection program, codenamed PRISM is viewed as a pervasive spying program by US government which allows officials to collect material including search history, the content of emails, file transfers and live chats of users using any of the above mentioned services.
PRISM, A Data Collection Program
A government official reported that PRISM is a data collection program rather than a data mining program but this certainly leaves an element of doubt in one's mind as one can always mine collected data later during leisure. That said, the companies alleged to have participated in this program have denied any involvement.
Google, the Internet giant said the following,
"From time to time, people allege that we have created a government 'back door' into our systems, but Google does not have a 'back door' for the government to access private user data."
On the other hand, Facebook issued the following statement,
"We do not provide any government organization with direct access to Facebook servers. When Facebook is asked for data or information about specific individuals, we carefully scrutinize any such request for compliance with all applicable laws, and provide information only to the extent required by law.
Microsoft also appeared to deny involvement, in a statement that said,
"We provide customer data only when we receive a legally binding order or subpoena to do so, and never on a voluntary basis. In addition we only ever comply with orders for requests about specific accounts or identifiers.
Megan McCarthy, deputy technology editor, Reuters tweeted that the information being collected under the program is meant to target only non-US persons outside the US not US citizens. That, ought to be enough to leave millions of Facebook and Google non-US population red-faced with anger.
The PRISM documents can be found here.
Via Microsoft News Center, Google BlogSpot | Image – Marketingland.
You might want to take a look at the Opt out of PRISM website.