Microsoft keeps breaking the barrier where language becomes a problem between two people. The company has launched a free transcription app for in-person conversations, i.e., real-time conversation translation in your own language no matter with whom you are talking to. The app—Group Transcribe—is a Microsoft Garage project which uses cutting-edge speech and language technology and offers highly accurate transcriptions.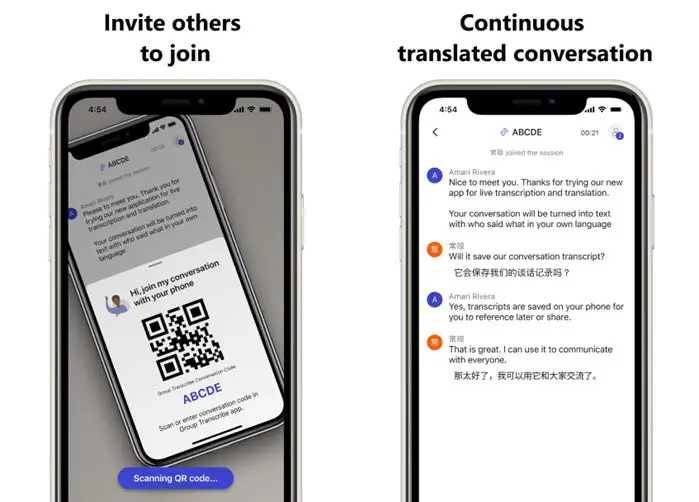 Features of Group Transcribe
Speaker attribution to see who said what on your device in real-time.
Share the transcripts with others with access to previous transcripts on your device.
Read the transcript in your language of choice.
Supports 37 languages for speech recognition in 82 distinct locales.
Here is the list of supported languages:
Arabic, Bulgarian, Catalan, Cantonese, Chinese (simplified), Chinese (traditional), Croatian, Czech, Danish, Dutch, English, Estonian, Finnish, French (Canada), French (France), German, Greek, Hindi, Irish, Italian, Japanese, Korean, Lithuanian, Latvian, Maltese, Norwegian, Polish, Portuguese (Brazil), Portuguese (Portugal), Romanian, Russian, Spanish, Slovak, Slovenian, Swedish, Thai, and Turkish.
It is interesting to see how the device works as of now. Two users install the app on their phones and connect over Bluetooth. As one person speaks in their native language, the app first types it in the conversation box and then translates into the other person's default language. So if you are speaking in English, and I am speaking in Hindi, we get to see the translation in our language and original text from the other side, which becomes part of the transcript.
While the app is available right now on iOS, it should expand to other devices once it is ready to be used on larger levels.
That said, Microsoft is not new to this and has been using its speech and language technology in various products such as Office, Teams, and Skype. In fact,  Skype includes a voice translator that can translate from 60 languages to 11 languages in real-time.