With wearable health device touted as the next big thing of the future, it has been just a matter of time that Microsoft could come with its own Health platform. Joining Google Fit and Apple Health, Microsoft has launched its health and fitness platform called as Microsoft Health.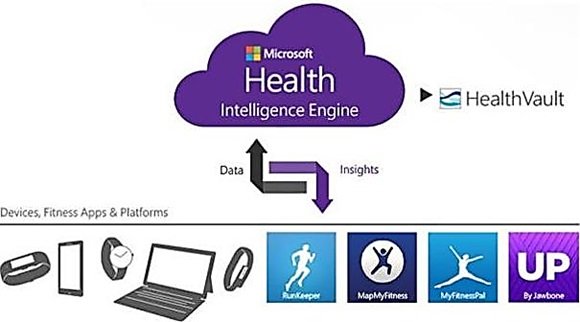 Microsoft Health aims at becoming the center point where you could store, combine and access all the information related to your nutrition, health and fitness. Activity-tracking devices like the new Microsoft Band, smart watches and mobile phones, plus services like RunKeeper or MyFitnessPal connect to Microsoft Health.
Microsoft Health – Service on the cloud
Microsoft Health is a cloud service through which consumers and industry can store and combine health and fitness data to gain useful insights using Microsoft's Intelligence Engine. Some of the examples such as which exercises burned the most calories during a workout, recommended recovery time based on the intensity of a workout, and the amount of restful vs. restless sleep you've gotten, can be tracked using Microsoft Service.
Rendering support to new entrants and startups, Microsoft said that it is offering its app, and APIs as well as cloud storage for their data. Existing services can upload their data to Microsoft Health and utilize its advanced algorithms and the powerful machine learning from Microsoft's Intelligence Engine to give their customers insights about their fitness.
Microsoft Health has already joined hands with other health partners such as RunKeeper, MapMyFitness, Jawbone, MyFitnessPa and Gold Gym. The company plans to extend this partnership with others as well.
Joining hands with Microsoft Health, Mike Lee, CEO, MyFitnessPal, said
"At MyFitnessPal, user success is our true North, and we are excited to join Microsoft in their mission to make fitness easier through Microsoft Health. Plugging into their cloud platform will allow us to match up fitness and nutrition data from our 65 million users around the world with deeper and broader data, ultimately helping people build even healthier habits in their everyday lives."
Microsoft Health is free and is available for Android, iOS and Windows Phone.