After rumors and leaks, Microsoft has announced its entry into the wearable market with its first wearable called as Microsoft Band. Microsoft Band is a fitness tracker wearable that can work with Windows Phones, IOS and Android Phones. The band houses 10 sensors and is loaded with several fitness features along with a Watch. Priced at $199, the Microsoft Band can be purchased from Windows Store starting October 30 in the United States.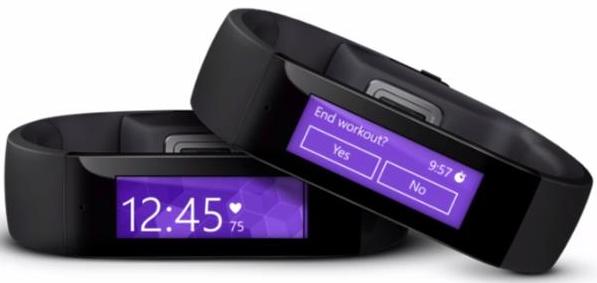 Microsoft Band comes along with the debut of a new service from Microsoft called as Microsoft Health. The Microsoft Health platform includes a cloud service for consumers and the industry to store and combine health and fitness data to create powerful insights. Microsoft Health will make tracking personal fitness easier, more insightful and more holistic and will unite data from devices such as Microsoft Band in a single, secure location.
Monitor health & fitness with Microsoft Band
The Microsoft Band has 10 smart sensors for 24-hour heart rate monitoring, calorie burn measurement, advanced sleep quality tracking and more as well as Guided Workouts curated by Gold's Gym, Shape, Men's Fitness and Muscle & Fitness. The device has inbuilt GPS that allows you to keep track of your running workout without any additional tracking device.
With the Microsoft Band in your wrist, you have access to incoming calls, texts, social updates, weather, finance, voicemail notification, discreetly and without needing to pull out your phone. Users of Windows Phone 8.1 will enjoy the assistance of Microsoft's digital assistant Cortana. They will be able to read out notes or set reminders with their voice. Cortana will always be available to assist with driving directions, traffic updates, sports, stocks, weather, and more.
Spreading its platform, Microsoft has kept Microsoft Health service open to other Fitness providers. The company has stuck partnership with Jawbone, Golds Gym, MyFitnessPal, RunKeeper and MapMyFitness to make Microsoft Health a success.
Check out the Microsoft Band promo video below.
Looking to buy Microsoft Band? You may well have to hurry up as the Band is available only in limited numbers. Go here to get the Microsoft Band Sync app. Have a look at this post on Microsoft Band vs Apple Watch too.