Microsoft has updated OneDrive, improving OneDrive Office integration. The latest updates makes it even more easier to work with other people wherever they may be.
A few days back, we had posted about Syncing Shared folders in OneDrive, a new feature being rolled out which was announced on OneDrive Uservoice site. Today the OneDrive team posted about it on the blog along with other new features.
Sync shared folders to desktop : With the latest update OneDrive users can add shared folders to their main OneDrive folder and so they can sync down to OneDrive app on their PC or Mac. And can be viewed and edited in the OneDrive mobile app. This ability to sync shared contents to ones desktop gets more useful when working with others.The latest

ver

of Office lets multiple people work on the document at the same time.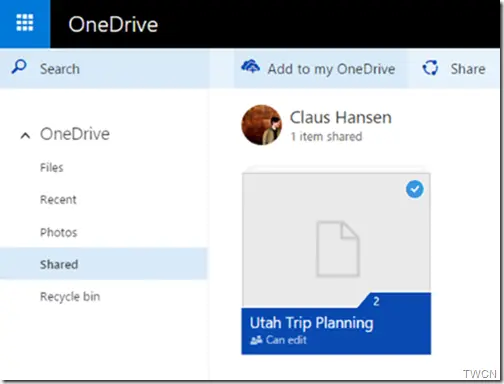 This feature is available on Windows 10, Windows 7 and Mac.  Windows 8.1 users will have to upgrade to Windows 10.
Get notified when others edit: OneDrive has added 2  ways to be notified when people edit your shared documents. So one can immediately check what changes were made.

On the mobile device, OneDrive app will show real-time notifications of which document and by whom is being edited. This notification is supported on Apple watches too.

Other is daily email summary of edits of shared files. Will be useful when one is working on a group  project. Changes made to the document will be saved in its version history, so one can go back and restore a previous version.

Find Shared documents easily:  Lot of search capabilities for OneDrive have been added in recent months. One can search Office docs and PDFs by text inside them. Now this feature will work with your own files as well as for Shared files.
Announcing these new features, Jason Moore Group Program Manager, OneDrive said Office is the world's most popular authoring experience, and with these new capabilities we hope that OneDrive and Office will continue to be the best way to get work done with others.
The email and mobile notifications feature have started rolling out and will be made available widely in the coming weeks.