In the wake of rising cybersecurity threats, Microsoft Korea, a subsidiary branch of Microsoft Corp. today launched its new Cybersecurity Center (CSC) in Korea. The launch of the cyber security center signals Microsoft increasing interest and raising investment in the fight against cyberthreats & cybercrime.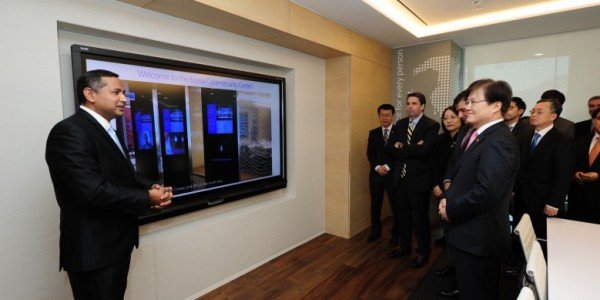 Microsoft Cybersecurity Center in Korea
The new center, marks the seventh of its kind around the globe. Its primary objective is to gather security-related data such as malicious code and share it with South Korean researchers such as the National Security Research Institute to enable secure environment and increase cybersecurity.
Microsoft reports South Korea's well developed and robust infrastructure in the information technology industry makes it one of the potential targets of cyberattacks from around the globe. In this regard, Microsoft feels it essential to lend the company necessary support in improving the country's online security. The center will function as a one-stop solution for sharing intelligence and technologies with online service providers via various governmental and security organizations.
Yang Hee Choi, Minister for Science, ICT, and Future Planning said, "As IT technology continues to advance, various cyber threats are increasing as well. A close cooperation between the nation, private companies, and institutions will play a crucial role towards strengthening cyber security. In that regard, we truly welcome Microsoft Korea's Cyber Security Center (CSC) opened here in Seoul. Through cooperation with the Microsoft Korea CSC, we will work hardest in creating safer IT & internet environment in Korea and increase secure IT practices and usage of trusted cloud technologies.
Microsoft claims, CSC is part of the company's wider commitment towards cybersecurity. It thus, does not shy away from investing heavily in cybersecurity innovation and acquisitions every year. The cybersecurity center will offer cost-free provision of PhotoDNA technology to law enforcement and enterprises to track and eliminate child online pornography.