Microsoft has released an Infographic for Windows XP users explaining them the reasons they need to upgrade and the options available. On 8th April 2014, Windows XP will be 12 years old and support to this popular operating system will end, as it reaches the end of life.
This means that if you don't have paid custom support, you will no longer receive security patches, hotfixes or service packs. The OS will be dead in the water, and is likely to come under severe attack from hackers and malware.
Microsoft recommends that you upgrade to Windows 8 or Windows 7. and enjoy an overall safe, secure and a modern user experience with many benefits.
It's almost time to say goodbye to Windows XP – the longest-supported operating system in Microsoft history. It's never easy to say goodbye to an old friend — and XP now more than 12 years old. But the world has changed since 2001 and today's IT environment is filled with challenges that no one could have foreseen back when XP development began in the late 1990s.
Windows XP Infographic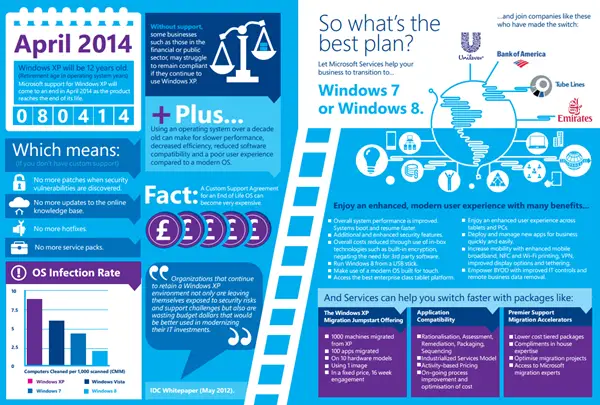 The Infographic is available in the PDF format, and you can download it from MSDN Blogs to see the full large version.
Till such a time you upgrade from this old OS, you might want to have a look at Securing Windows XP after end of support.