Microsoft is pushing Cortana into every relevant direction lately. The latest is integrating the digital assistant with LinkedIn, something that could boost the productivity of those in business.
LinkedIn is arguably the largest social network for the business minded, which is one of the main reasons why Microsoft chose to partner with them. It's a big deal for those who use Cortana's reminder system a lot, along with LinkedIn.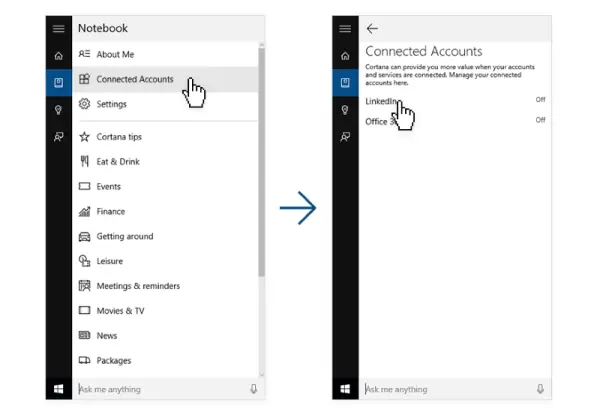 How will the Cortana and LinkedIn integration work
For those who are already using the Windows 10 Calendar and Mail app, it shouldn't be too difficult to get used to Cortana's reminder system. Some of us at The Windows Club have been using Cortana to its fullest ever since it came on the scene, and we can say for sure that the digital assistant's reminders are solid.
With this new feature, whenever a person gets a meeting reminder, they can quickly look up the person they are going to sit down with on LinkedIn to get a better idea of their business goals and ideas. It can also allow users to know about the company a particular person works for or owns among other things.
The feature is currently being rolled out to Windows 10 owners though we are not certain if it will come in the form of an update since Cortana is situated in the cloud.
How to activate the Cortana and LinkedIn integration feature
You'll need to click on the Cortana, then on the Notebook icon that is seated below the home icon in the left pane. From there, you should see "Connected Accounts", so click on that and everything should be smooth sailing.
This feature hasn't been rolled out to us yet, but as soon as it comes around, we'll give it a spin and make sure to tell you guys how it all turns out.
Source: Microsoft.