A funny and interesting parody video – said to be an internal video of Microsoft – mocking on Google's most recent "Now Everywhere" ad for the Chrome web browser, recently surfaced. The ad skewers Google and depicts it as a perfidious company tracking users' personal information and using it for increasing the company profits. Beyond taunting on privacy, the ad also portrays Google as a duplicitous bully about its business practices.
The amusing ad notes that Google tracks "What you do, where you are, who you call, what you search, what you watch, the contents of your email and chats, who your friends are, what apps you own, what you buy, what you listen to and monetizes all your chats, mails, apps and uses it to make profits.
The parody video from Microsoft conveys the message very clearly and is identical to Goggle's own Chrome "Now Everywhere" ad. Even the background music is same in the mocking parody video.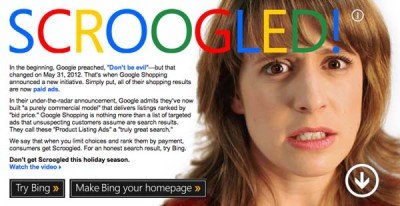 Although, it is not yet confirmed that the comical video is made by Microsoft but the end tagline of the video "Don't get Scroogled" depicts Microsoft's typical anti-Google campaign. The whole thing actually seems to be a promotion for Microsoft's Outlook.com and its browser Internet Explorer. According to one of the Microsoft's spokesperson, this was an internal video which was leaked.
Unlike the previous videos of released under the 'Don't get Scroogled' campaign this parody video directly hit on the practices where Google purportedly target the users with ads. On the other hand, Google CEO Larry Page didn't mention anything about Microsoft's Scroogled campaign during his appearance at I/O on Wednesday. ]
In case you missed it check out the original "Now Everywhere" ad below.