After just two years, Microsoft has decided to put an end to Money in Microsoft Excel. For those who weren't aware, Money in Excel is a feature that allows people to connect their financial data to Excel sheets, but for reasons unknown to us, the functionality is set to be discontinued alongside other features from Microsoft Office 365.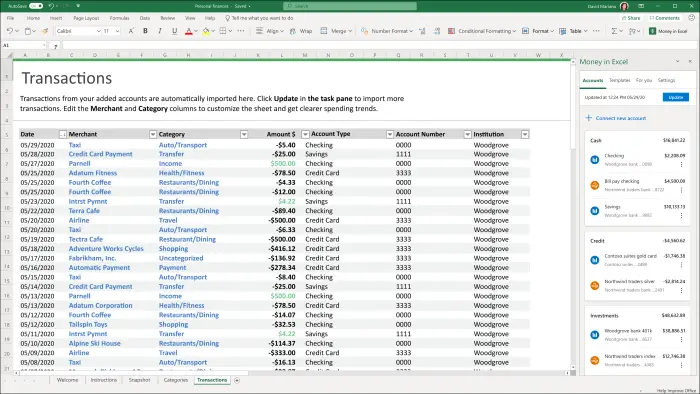 Money in Excel was quite interesting from our point of view because users could connect accounts such as banks, credit cards, investments, and more. The data connected would then be synchronized with an Excel sheet with just a single click of the mouse. After that, should the need arise, users could transform the data into graphs, charts, and tables.
When will Money in Excel end?
According to the folks at Microsoft, the service will end on June 30, 2023. That is basically a little over a year from now. So, if you are a person who uses Money in Excel quite often, now is the time to seek out a replacement.
Here is what Microsoft had to say about why it plans to remove Money
We've learned a lot from Money in Excel and appreciate the many needs people have for their families and their money. We believe there are other areas where we can have a greater impact and will be focusing on those going forward.
Will Microsoft have access to your data?
The company says it will cease accessing your data after Money in Excel is no longer supported after June 30, 2023. Also, if you save your Money in Excel workbook on your OneDrive, nothing will happen to it, according to Microsoft.
What can you use as a replacement?
At the moment, Microsoft is recommending users to take advantage of Tiller, which is very much like Money in Excel. However, one must bear in mind that Tiller is a subscription service, therefore, it's not freely available. Still, it is possible to get a 60-day trial if you visit the Tiller Excel page right now.
The trial is only available to Microsoft Office 365 subscribers. After the trial ends, you'll be asked to pay $79 per year to continue using the service.
What else is Microsoft removing from Office 365?
Wolfram is also getting the axed after just two years. The service allowed users to import nutritional information, stocks, and other data directly from Wolfram Alpha. Additionally, Microsoft Office 365 subscribers will no longer be able to redeem unique offers from partners after the June 30, 2023 deadline.