For the last several months, Microsoft has been flaunting its new avatar. Perhaps Microsoft has realized the importance of upgrading its hardware design and traditional form-factor. But then, of course, the hardware isn't everything, is it? The company also requires software that efficiently interacts with the new hardware and form-factor. That's where the Windows 10X comes into the picture.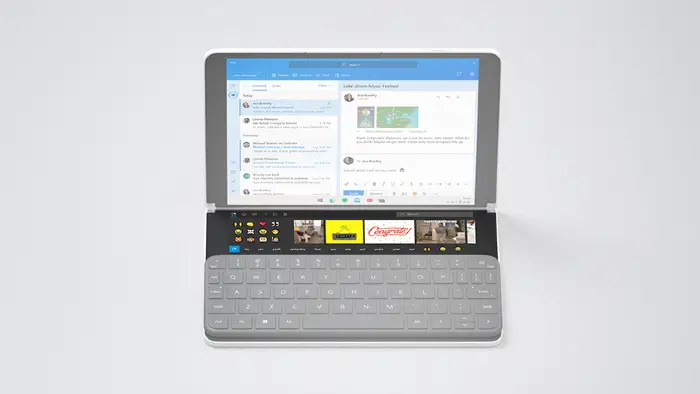 Windows 10X has several functionalities to offer. For instance, it uses Wonder Bar to provide users with a virtual touchpad and rich input at the same time. Well, the virtual touchpad will be essential to Windows 10X's Wonder Bar, and it will be able to provide users with unique app experiences whenever possible. Rich input, on the other hand, will let users input text suggestions, emojis, GIFs, and various other types of expressions.
Windows 10X devices to get a Wonder Bar
Recently, what appears to be a leaked image of a mysterious Windows 10 keyboard appeared on social media. It also has its separate number pad, a dedicated Bluetooth key, allowing users to switch between up to three connected devices using it. There's also a new key next to the right Alt button whose functionality remains unknown.

According to a well-known Microsoft tipster Gustave Monce, the new button on an upcoming wireless keyboard from Microsoft is supposed to invoke Windows 10X's Wonder Bar.
"That's actually the (Wonder Bar) key, same icon you can see on 10X and the new upcoming touch keyboard in build 20185 and higher, behind a velocity flag. I don't think it's purely emoji, it will probably launch the (Wonder Bar)."
Now, that's more like a MacBook Pro, isn't it?
In May, Microsoft officially confirmed its plans to release the Windows 10X operating system on traditional 'single-screen' laptops. Windows 10X was originally announced for dual-screen, foldable devices such as Surface Neo.
A couple of weeks ago, Microsoft officially unveiled the all-new Surface Duo foldable Android smartphone in all its glory.