As many websites started migrating to open web technologies for rendering a faster and more power-efficient experience than Flash, Adobe announced its plans to stop supporting Flash by the end of 2020. Following this, Microsoft also published its roadmap to remove Adobe Flash from Microsoft Edge and Internet Explorer by 2020. Now, there's an update on Flash retirement from Microsoft browsers.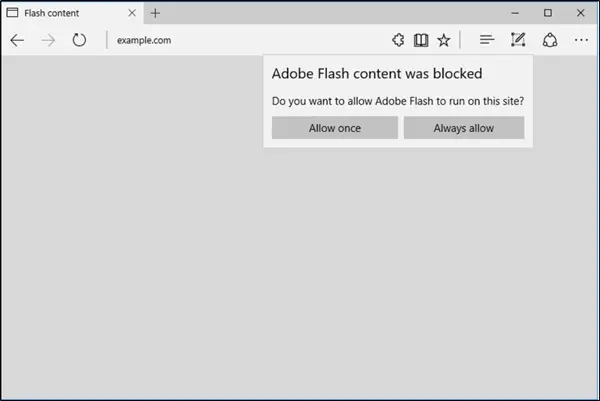 Flash retirement in Edge & Internet Explorer
The update dispels the rumors of the burial of Flash support very soon. Microsoft clarified it would end Flash support in a defined timeframe and a phase-wise manner. The origin of rumor can be attributed to information in a Microsoft support chat received by a German blog.
In the next version of Microsoft Edge (built on Chromium), we will continue to retire Flash in the same timeframe as other Chromium-based browsers. You can learn more of that timeline in this blog post. Flash will initially be disabled, and the user will need to re-enable Flash on a site-by-site basis; Flash will be completely removed from the browser towards the end of 2020, mentioned a Windows blog post.
So, as it stands, both the in-market version of Microsoft Edge (built on EdgeHTML) and Internet Explorer 11 will allow running of Flash. It's possible since the company no longer intends to update either Microsoft Edge (built on EdgeHTML) or Internet Explorer 11 to disable Flash by default.
On an ending note, Flash was not an unknown name for creating animations and developing website graphic content. However, with the passage of the time, its utility started fading. Still, some websites continue to support it, although on a very small scale. Most of the companies like Microsoft, Google and Apple had already communicated their timelines for retiring Flash as its parent company, Adobe itself had announced Flash would be killed off in 2020.
For more information, visit the WindowsBlog.