In a bid to protect user's privacy and ensure that they are safe on the web, Microsoft launched a new TV and Internet campaign aimed at educating users about not releasing their private information on the web.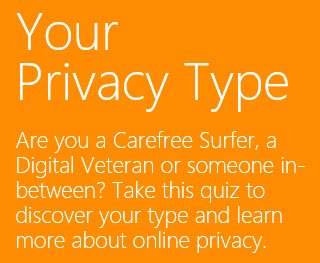 "Today we are launching a new consumer awareness campaign focused on online privacy, with resources at www.Microsoft.com/YourPrivacy. We want to help people learn more about the tools and technologies Microsoft provides that give them have greater control over personal information as they browse the web and use their favorite Microsoft devices." – Microsoft
The new TV ad underlines the fact purported by Microsoft that it is very serious when it comes to safeguarding personal information of users from falling in the wrong hands on the Internet. It states how Microsoft has engaged in extra privacy features in its Windows operating system and Internet Explorer, especially the Do Not Track feature available in Internet Explorer 10.
Microsoft has also launched a website called YourPrivacyType.com that has a series of questions designed to find out how much privacy you use in your Internet life.
"You can also take a new online quiz called Your Privacy Type to help you discover your privacy tendencies and preferences, along with tips on how to turn your newfound awareness into action. Providing customers with the tools and technology that allow you to have more choice and control is something Microsoft has been doing for quite some time, and today's products like Internet Explorer, Windows, Xbox, and Outlook.com make it easier to manage and control your privacy."
Microsoft is known for taking digs at Google for betraying its users when it comes to protecting their privacy online through various campaigns and commercials like Scroogled etc. However, this new ad campaign follows a mellowed-down approach and rather that attacking Google for privacy-intrusion, it lays emphasis on how a user can protect his privacy on the web.