After the huge success of the Smoked by Windows Phone campaign, Microsoft is back with the Meet Your Match initiative. As announced earlier, this focusses less on competing with other phones in terms of speed but instead more on underlining why a Windows Phone 8 device is the best option for consumers.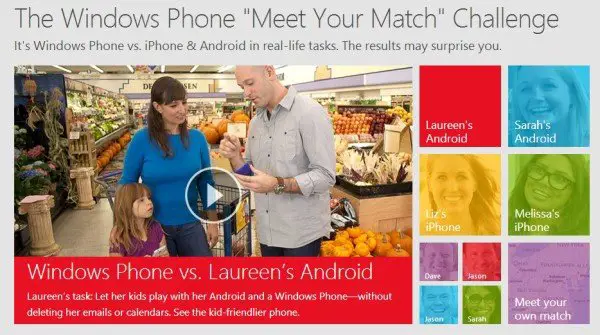 According to Ben Rudolph, Windows Phone evangelist – Microsoft, the Meet Your Match series did a successful debut with more than 300,000 video views till date. Taking this forward, the Windows Phone team has decided to not just add more content but also plant an official page for the Meet Your Match initiative on the Windows Phone portal.
The Meet Your Match page allows users to learn more about the all new Windows Phone 8, browse through the various videos (new ones being added recently) and also participate in a Meet Your Match challenge nearby through an interactive map that shows the participating venues (Malls, Microsoft Stores etc.) and the duration through which the challenge will be held.
Primarily seen more of a competition, Meet Your Match pitches a Windows Phone 8 smartphone against an Android or iPhone and proves to the user how the former produces better results under the same conditions. Lucky participants are also sometimes upgraded to a brand new Windows Phone 8 device.
http://www.youtube.com/watch?feature=player_embedded&v=ntka8LPtDLc
Log on to the official page to actually 'Meet Your Match'.
You may also want to view this Windows Phone video on 'Stop wasting your money on an iPhone 5'.