Microsoft today launched a site full of statistics about Microsoft products and services – Microsoft By The Numbers. Did you know that –
About 2,600,000 gallons of free beverages are consumed every year by employees on Microsoft campus. The most popular soda selection is Coke Zero.
To date, 11 billion photos have been stored on SkyDrive, along with over 1 billion Office documents.
About 554,000 pizza slices and an 250,000 personal-sized pizzas are consumed each year by hungry employees in Microsoft cafeterias.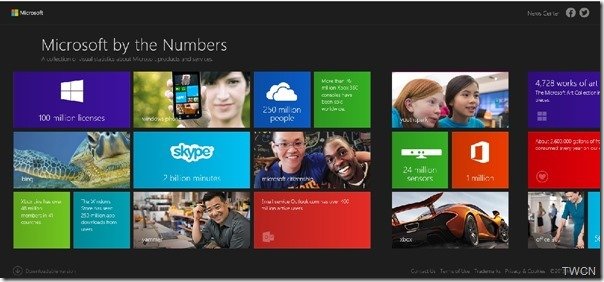 If you like such numbers & statistics just for knowing facts or for fun, then this Microsoft website is sure to interest you.You can explore the collection of visual stats from the world of Microsoft on this site, which talks about Microsoft software, products, services and other trivia.
Frank X. Shaw, Corporate Vice President of Corporate Communications at Microsoft has blogged about the launch of the site.
I'm a words guy. My business revolves around words, how they're written and how they're interpreted. But sometimes numbers are more effective at telling a story than words. That's why today we're introducing a new site at microsoft.com/bythenumbers that uses a familiar interface to highlight some of the important (and not-so-important) facts about our business and our company.
The site has been nicely designed in the spirit of Live Tile . It will be updated frequently so that the users are kept appraised of the progress Microsoft is making in transitioning to a devices and services company – or just for fun facts, like how many cans of Coke Zero is consumed yearly by Microsoft employees on the campus.
The site is full of interesting statistics with the combination of Live & static tiles – with each Tile displaying the information. The tiles are clickable just like the Windows 8 Start Screen.
Just go to the site and discover the many fun facts about Microsoft, its services, products and its employees. The site also provides a downloadable version of the statistics as a PDF .  Check the video of the site!
[youtube http://www.youtube.com/watch?v=4TbI38fiUNg&hl=en&hd=1]