Microsoft Garage is known for turning innovative ideas into real projects. The Word Flow Keyboard has been one of the most loved Windows Phone projects by Microsoft Garage. With a goal of expanding its services on multiple platforms, Microsoft has finally released its Word Flow Windows Phone Keyboard for iPhones. After being in closed beta for almost a month, the unique arched keyboard is now made available for iPhone users. The app is free to download and is listed only on the US App Store for now. However, there is no official word about rolling it globally.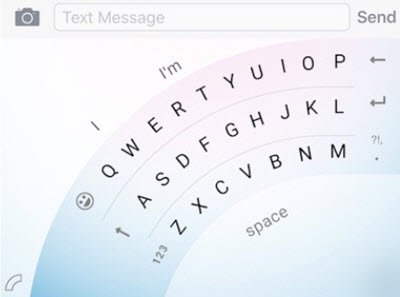 Word Flow Keyboard for iPhone
Word Flow Keyboard app, a Microsoft Garage project comes with many customization options which include different background color schemes and themes. You can use any of the stored images or your favorite image as background.
This new fan shaped arc-mode keyboard app will let you type and chat with one hand. No matter you are a right-handed or a left-handed users, you can launch the curved keyboard on either side of your mobile screen. It is a fast keyboard app which smarten the typing and chatting experience with various emoticons.
The app comes with an intelligent word prediction where users can select the predicted words and sentences just by tapping or swiping. The app cleverly suggests the next word in your sentence and also corrects your typos.
You have to know that the app has an access to your contacts and thus predicts names of contacts in chat room. With the size of iPhones getting bigger, users certainly needed such app which can make typing on big screen easier.
If you are an iPhone user and want to get a faster and easier typing experience, download the all new Word Flow Keyboard app from the US App Store.