Server Message Block or SMB is the file protocol that is used by Windows. SMB1 is the first version of this Server Message Block protocol. Microsoft recently published a list of software products that require SMB1. For these software products requiring SMB1, their vendors have explicitly mentioned in their own documentation or communications.
NedPyle of Microsoft mentions in his blog that the list is not complete. Hence, whenever users want to know the software products requiring SMB1, they can check the documentation that comes with the product. It will be certainly mentioned in the documentation whether the product requires SMB1 or not.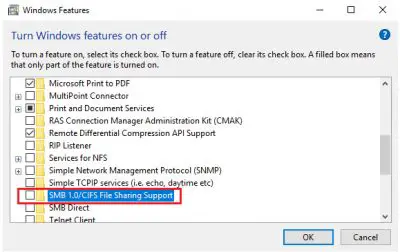 List of software products requiring SMB1
This list consists of the vendors and their software products requiring SMB1. For some products, it is also mentioned when SMB1 is actually required.
Aruba: Clearpass, when using MSCHAP for domain join
Barracuda: SSL VPN
Barracuda: Web Security Gateway backups
Canon (& Océ): Printers via "print to share"
Cisco: Web Security Appliance/WSAv
Cisco: Wide Area Application Services/WAAS 5.0 & older
F5: RDP client gateway, Microsoft Exchange Proxy
Forcepoint (Raytheon): "some Forcepoint products", Content Gateway proxy authentication
HPE: ArcSight (Legacy Unified Connector, not latest version)
IBM: NetServer V7R2 or below
IBM: QRadar Vulnerability Manager 7.2.x or below (7.3 has been updated)
Lexmark: Firmware eSF 2.x & eSF 3.x MFPs (scan to network)
Linux Kernel: CIFS client 2.5.42 to 3.5.x (3.7 added first SMB2 client implementation)
McAfee: Web Gateway
Microsoft: Windows XP, Windows Server 2003 (and older), Windows Embedded Standard 2009
MYOB: Accountants Office & Accountants Enterprise (states requirement for disabling opportunistic locking, i.e. SMB1 behavior option)
NetApp: Versions of ONTAP prior to 8.3.2P5, 9.0P1 & 9.1 require SMB1 for domain join (not client connections). ONTAP 8.3.2P5, 9.0P1, 9.1 can instead utilize SMB2 for domain join as well as client connections via SMB2 & 3, and ONTAP 9.2 allows for complete disabling of any SMB1 connections
NetGear: ReadyNAS (when used as backup target)
Oracle: Solaris 11.3 and older
Pulse Secure: PCS devices running 8.1R9 / 8.2R4 and below or PPS devices running 5.1R9 / 5.3R4 and below
QNAP: all storage devices using firmware lower than 4.1
RedHat: RHEL 5, RHEL 6 domain join; earliest SMB2+ CIFS client documented is in RedHat 7.2, RedHat server provide by Samba
Ricoh (Ricoh/Savin/Gestetner/Lanier): all MFP printers (supporting Scan to Folder, Fax Transmission Backup to Folder, Fax Forwarding) except SP C220S / C222SF, SP C231SF / C232SF, SP C240SF / C242SF, SP C250SF / C252SF, SP 3400SF / 3410SF, SP 3000SF / 3510SF
RSA: Authentication Manager Server
Samba: versions older than 3.5.0 (note: all supported versions of Samba support SMB2+)
Sharp: Subset of MFP printers (many do support SMB2 and 3)
Sonos: Wireless speakers
Sophos: Sophos UTM, Sophos XG firewall, Sophos Web Appliance
SUSE: SUSE Linux Enterprise Server 11 and older (note: 10 and older versions are unsupported, regardless)
Synology: Diskstation Manager (management, not client connection)
Thompson Reuters: CS Professional Suite
Tintri: Tintri OS, Tintri Global Center
VMware: Vcenter VMware vCenter Server Appliance, VMware vRealize Automation Identity Appliance
VMware: Older than ESXI 6.0
Worldox: Worldox GX3 DMS (SMB1 recommended but supports SMB2 under some circumstances; note that GX3 is end of life, per vendor)
Xerox: SMB Workflow Scanning on printers not running ConnectKey Firmware, such as WC75XX models)
To know more about the software products requiring SMB1, read the blog on TechNet. This blog also has a list of documents for each software product.
Read: Why and how to disable SMB1.