Windows 10 May 2019 Update aka 19H1 is the next feature update, and Microsoft is placing some upgrade blocks. It seems these upgrade blocks are learnings from previous feature update which deleted user folders. If you still did not get the term "Upgrade Blocks," then in simple words, there are specific scenarios which will block Windows 10 Update.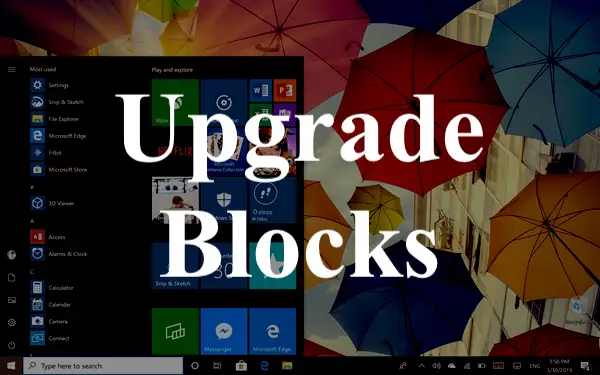 Upgrade Blocks for the Windows 10 v1903
The Windows Team wants to make sure that the next feature update goes smooth. Probably this one of the reasons the update is late. And these current lists of upgrade blocks signals that they are extra careful. The list includes:
Presence of external USB drive or SD memory card
An old version of anti-cheat software
Redirected Known Folders.
Presence of external USB drive or SD memory card
Any connected external USB drive or memory card will block the feature update. If you remove it, the update will move forward smoothly. It is a known bug. But as of now, there is no solution for general consumers in 19H1/May 2019 update. As per Microsoft, the issue has been resolved for Windows Insiders in Build 18877 and later builds. A solution for this will become available at a later date for general consumers.
An old version of anti-cheat software
Many Video game developer, publisher, and digital distribution who run their online store for game download, include anti-cheat software.  For example, Valve's Anti Cheat system is probably one of the oldest in the industry. Before upgrading to May 2019 update, make sure to update anti-cheat software.
Windows Upgrade process will check for version, and if the version is old, the upgrade will fail. Microsoft is working with partners to find a fix, and most games have releases patches to prevent the PC from experiencing the issue.
Redirected Known Folders
Known Folders are folders offered via OneDrive to make sure essential folders like Desktop Documents and Pictures are always backed up on the cloud. However, if you have redirected any of the Known Folders, an empty folder with that same name is created in your %userprofile% directory when you update.
Your Known Folders are redirected if you chose to back up your content to OneDrive using the OneDrive wizard, or if you chose to keep your content backed up during the Windows Out-of-box-Experience (OOBE).
You may have also redirected your Known Folders manually through the Properties Dialog in File Explorer. ​This issue does not delete any user files, and a fix is in progress.
Is your system affected?