[email protected], the hacker from Bangladesh has hacked several high profile domains from Malaysia including the official Microsoft domain "Microsoft.com.my". The hacker has created a defaced page flaunting the successful hack attack.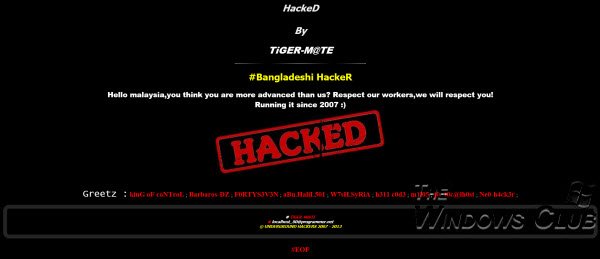 The defaced page says,
"Hello Malaysia, you think you are more advanced than us? Respect our workers, we will respect you! Running it since 2007 :).
Besides Microsoft's official domain, [email protected] has also attacked on several Malaysian domains of Bing, MSN, Skype and even Kaspersky & Dell. Microsoft has not yet released its statement against the hack attack.
This is not for the first time when [email protected] has defaced leading official domains. Back in April 2013 several Kenyan domains of Microsoft, Western Union, HP, LinkedIN, Bing, MSN, Skype, Dell, and Google were deface by the same Bangladeshi hacker considered as one of most precarious black hat of world.
At the time we are posting this news all the sites mentioned below are defaced.
·         Microsoft Malaysia microsoft.com.my
·         Skype Malaysia skype.com.my
·         MSN Malaysia msn.com.my
·         Bing Malaysia bing.com.my
According to the latest update this hack attack is not isolated to Google DNS. The report says that the MSN (.com.my) records have been poisoned across other DNS servers as well (Level3 and OpenDNS).
The MYNiC registry itself is reportedly compromised, and the entire domains on the .MY suffix are now in risk of such hack attacks.
The websites dell.com.my, kaspersky.com.my, etc, too appear to have been defaced.