In the professional world it is a bit difficult to find out what you are worth of but a new online community for technology professionals established by the software giant Microsoft vows to streamline this process. MS Gooroo aims to accurately match people to jobs, careers, companies and training all over the world.
MS Gooroo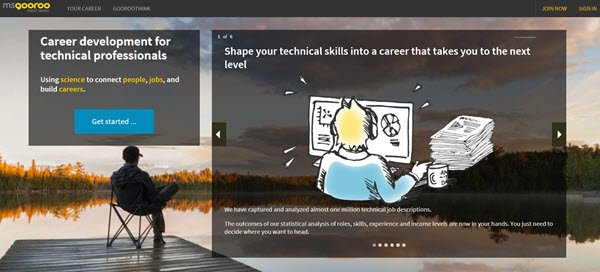 Until now, no other true professional network existed where the coterie could come together and connect with each another, develop their skills, promote themselves, take control of their personal brand and technology career and get exposed to level opportunities matched to them.
The community's focus centres on creating right tools for members to help them plan their future course of action. Members can invariably choose who has access to view their information, contact them and what companies they would want to work for.
MS Gooroo's statistics engine maps career salary curves thereby giving members a chance to project future earnings and increase the chances of the same by many folds with aid of training courses and certifications.
MS Gooroo VP Technology, Terence Siganakis, explains its innovative approach,
"Our ability to categorize familiarity and experience at the skill level for a particular role is quite novel. Our focus on the Microsoft tech job market means that our models and algorithms are heavily tuned for understanding technical skills, without having to worry about misclassification for other roles."
As the BizSpark Australia blog explains,
MS Gooroo "is initially targeting technologists who have some proven skills with the Microsoft technology stack." The site taps into a market with more than 10 million Microsoft-specific jobs advertised each year and about 100 million IT professionals in this category. After a beta launch earlier in May, MS Gooroo now has about 1 million Microsoft-related technology jobs available from companies around the globe.
MS Gooroo is still in its stage of infancy, but is inviting talent to help them build their profile and get their colleagues on-board. For now, it is targeting technologists who have some proven skills with the Microsoft technology stack.