A month ago, we learned Microsoft that Microsoft was planning to kill TechNet Subscription plans by August 31st, leaving Microsoft Developer Network as the only place to access old and current Microsoft software with a subscription. The network today has been re-designed to make the task of finding a software (old and current) lot easier.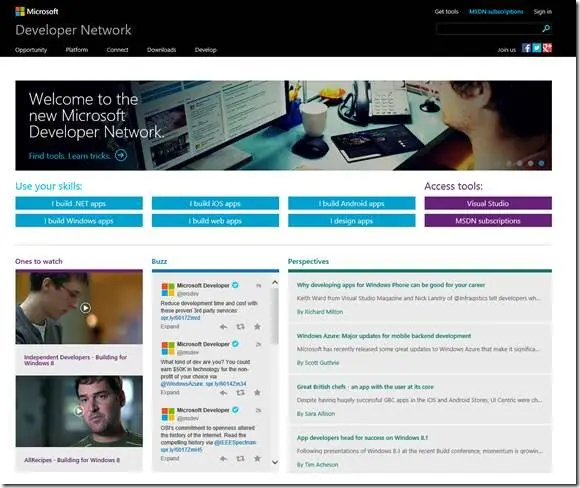 MSDN website redesigned
Today we launched the new Microsoft Developer Network site. As I've mentioned before, my team is responsible for much of the infrastructure and experience for MSDN. I'm very proud of what we have and at the same time see opportunities for improvement", wrote Brian Harry, Microsoft technical fellow in a blog post.
The updated and improved version of MSDN Developer Network has targeted few things and tried best to keep it
Simple: Finding the right information, spread between different locations was always a challenge. Not anymore! The re-worked Developer Network has addressed the issue by providing a single point of entry for all developers.
Relevant: Now, with the Microsoft Developer Network, an iOS developer can quickly understand the opportunity available from the platform and then easily navigate to the educational or technical content he needs to get started.
Community Driven: With the intention of providing even more opportunity for the community to engage with the developer network, Microsoft has created a "Perspectives" section with community blogs, an integrated social feed, and a "Connect" area that allows developers to tell their stories, get advice and connect with Microsoft Developer Network members directly.
Hope you like it!