Microsoft has announced that it will retire TechNet Subscription service on August 31, 2013. Usage shift from paying to free evaluation resources and experiences seems to be the reason behind this retirement.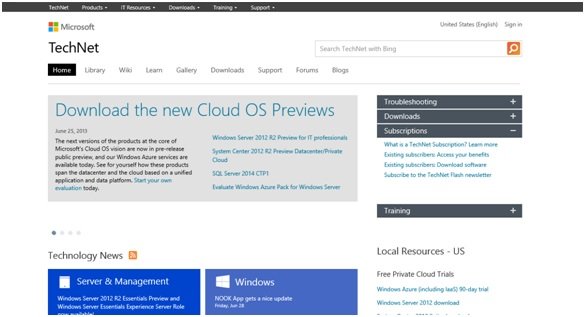 In a statement, Microsoft mentioned that,
"Microsoft is retiring the TechNet Subscriptions service to focus on growing its free offerings, including evaluation resources through the TechNet Evaluation Center, expert-led learning through the Microsoft Virtual Academy, and community-moderated technical support through the TechNet Forums to better meet the needs of the growing IT professional community. The last day to purchase a TechNet Subscription through the Subscriptions website is August 31, 2013. Subscribers may activate purchased subscriptions through September 30, 2013."
Why is Microsoft retiring TechNet Subscription service now?
For this, Microsoft explains that it wants to provide its customers with ample time to plan. Over the period, customers have become dependent on TechNet's services. As a result, they need some time to find out their businesses' evaluation needs, Besides, they also have to make the necessary adjustments so that this change does not impact their ability to manage their business. Hence, Microsoft made the announcement of the decision to retire the Subscriptions service much before, i.e. on July 1, 2013. This gives the subscribers up to two months to purchase a subscription through the website. Apart from this, Microsoft has also provided up to three months to activate the purchased subscriptions.
Microsoft will continue to honor the existing subscriptions. That means, subscribers with active accounts may continue to access the benefits of the subscribed program until their current subscription period ends.
What about other resources and technical assets?
Though TechNet Subscriptions are killed by Microsoft, the organization continues to provide access to the resources and technical assets to the IT professionals. They can continue learning about, evaluate, and deploy Microsoft technologies. The active services are mentioned in the table below.
If there are any questions about the retirement of TechNet Subscription services, you can visit this link.