Microsoft has started asking Windows 10 users to use Edge and Bing as the default web browser and search engine, respectively, TheWindowsClub has learned. More importantly, the Windows 10 operating system shows this recommendation pop-up message when someone opens up the Settings page.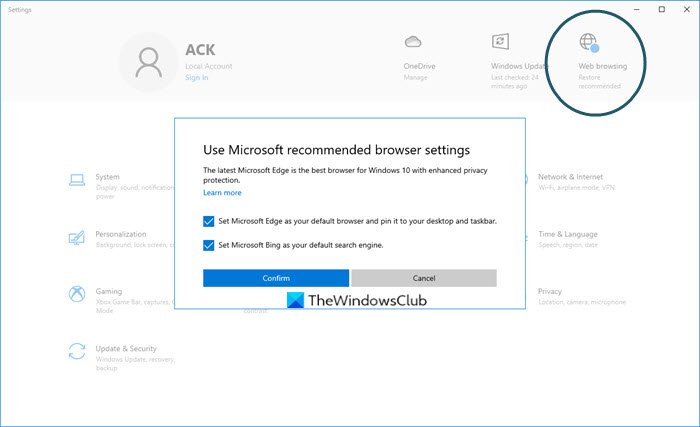 Windows 10 settings recommend Edge, Bing
It is no secret that Microsoft wants its customers to use as many of its services as possible. Therefore, it is common for Microsoft to expect Windows 10 users to use the Microsoft Edge browser and the Bing search engine.
Microsoft has taken a pretty straightforward approach in recommending both these apps, though. Once you have launched the Settings page, you can see a pop-up saying, "Use Microsoft recommended browser settings." It further explains that the latest version of Microsoft Edge is the best browser for Windows 10.
It also adds that the new version comes with enhanced privacy protection. Below, users can see two check-boxes. One is to set Microsoft Edge as your default browser and pin the same to the desktop and taskbar. The other one is to set Microsoft Bing as your default search engine.
Of course, Microsoft will set Bing as the default search engine in the Edge browser only. Once you click on the Confirm button, you are good to go. While the Edge browser has become a feature-rich yet power-friendly alternative to Mozilla Firefox and Google Chrome, the Bing search engine has become a better choice than Google in many aspects.
There have also been attempts to integrate the Edge interface and the Bing search engine, enhancing the browsing experience. This move from Microsoft will increase the number of people who use Microsoft Edge and Bing regularly. Considering that an internal pop-up tends to drive more people than a regular CTA button, there is more hope.
Read: 5 areas where Microsoft Bing Search outperforms Google.