After adding the innovative services like Delve and Yammer, Microsoft Office 365 now has a new home page for its customers, providing a quick access to all services, download and settings. Besides this, the licensed customers of Office 365 Pro Plus, can access the direct downloads-links of various Office applications from the new home page.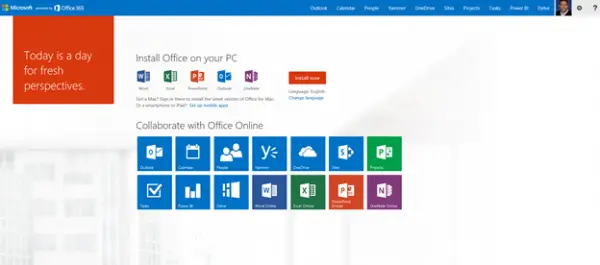 If you are an existing customer of Office 365, just login to your account and click the Office 365 logo in the top left-hand web navigation; it will direct you to the new homepage with better navigation options. The new customers will automatically land on this home page as they sign into Office 365.
The new home page is designed to let you launch documents right away, and more! It provides you the appropriate download links for your device. It detects your device automatically and prompts the best suitable/compatible application. For example, you are a Mac user, the homepage will prompt appropriate Office install for Mac. It is cleaner and more user-friendly. As you finish installing Office on your device, all your services are displayed as tiles in the homepage; much like the Metro Screen of Windows 8.
Furthermore, Office 365 now also lets you set your own default landing page when you sign-in to the portal. You may land straight to the services like Outlook, SharePoint, OneDrive or Yammer as per your preferences.
To set your own homepage:
Click the gear icon in the top right of the navigation bar-> click Office 365 settings->click Start page on the left hand side-> select the page from the drop-down list-> click Save and you are done.
As mentioned in the office blog post, the revamped homepage is currently rolled out only for the Exchange or SharePoint customers, and will gradually be rolled out to all.