Finally, Microsoft Office comes to Android after a long wait. Before it was released by Microsoft for the platform, users had to satisfy themselves using QuickOffice or Google Docs. Speaking of Quick Office, it is a Google Drive integrated product and adds 15GB to your total Drive storage. Coming back to Microsoft Office for Android, the suite contains Microsoft Word, Microsoft Excel and Microsoft PowerPoint as of now. "Other apps may be added to the suite when Windows 10 is released for mobile devices", said the spokesperson of Microsoft.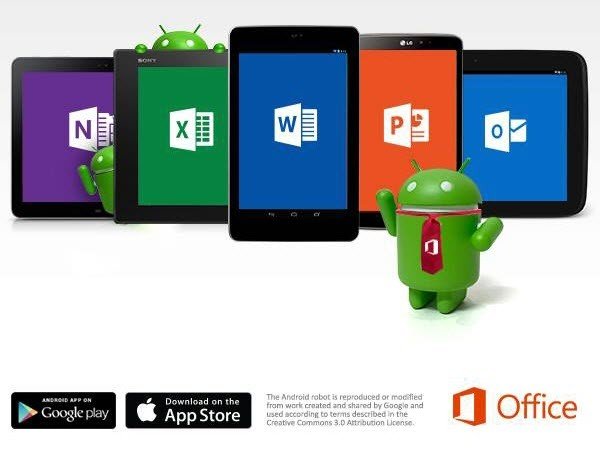 Microsoft Office for Android
It is to be noted that the next version of Office 2016, or Office Universal as it is being called, will be free for mobile phones and for small tablets (below 6″) even on Microsoft mobile devices. It is not clear if the Office Apps will be charged for use with PCs but since there is not official statement from Microsoft in this regard, we may assume at this point that the Office 2016 will not be free in the Windows 8.1 or Window 10 Marketplace as it will be after consumer release of Windows 10.
Also, it does not state whether the Universal Microsoft Office Apps will be free for Android when they are available in the Google Play Market. But since it is free on Windows Marketplace, it should be free on Google Play too and probably on iOS as well.
The current version of Microsoft Office suite for Android has almost all good features of Office 2010 and is free for all types of mobile devices for Android. This includes tablets of all sizes and is not restricted to small tablets.
This is said to be a gamble by Microsoft's CEO Satya Nadella to attract more customers for Microsoft Office and thereby increase sales of Office 365. Obviously, once used to attractive interface and many useful features for current version of Microsoft Office for Android, people will ask for Office 365 for both their mobile devices as well as PC workstations. This might also increase the demand of Office 2016 on bigger tablets and PC. Office 2016 is the next big release of Microsoft Office as said in the above paragraph.
Prior to release of Microsoft Office for Android, Microsoft Outlook was released for both Android and iOS to invite more users to email client. With release of Microsoft Outlook and Microsoft Suite containing Word, Excel and PowerPoint, people will get similar platform for working across devices unlike until yesterday when they had to make do with Google Docs or Quick Office. Breaking the tradition, Satya Nadella played nicely to lure people to Microsoft Office – especially when the next big release of Office is on cards.