Today, on 5th Dec, Microsoft announced that Chakra, Microsoft Edge's JavaScript engine, will now be open-source. With this, new opportunities will open up in the world of software, cloud-based services and Internet of Things. The core components of this engine which will be made open-source are called as 'ChakraCore' by Microsoft.  The repository of the key components of the JavaScript engine that powers Microsoft Edge will be available on GitHub next month, as mentioned by Microsoft.
Edge's JavaScript engine Chakra to go Open Source
The announcement of ChakraCore was made by Gaurav Seth of Microsoft at JSConf US Last Call. He also tweeted about this on his Twitter handle and mentioned that the sources of this JavaScript engine will be coming to GitHub post holidays.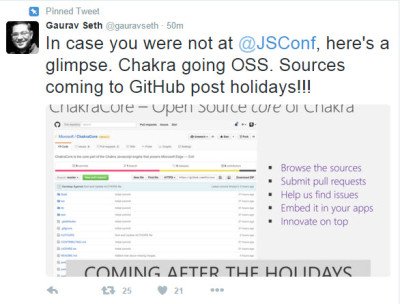 What advantages will the developers get with Chakra going OSS
Chakra is the JavaScript engine that was earlier developed for Internet Explorer 9 in 2008. Currently, with much more advanced features, this JavaScript Engine powers Microsoft's latest browser, Edge. It offers best-in-class JavaScript execution with the broadest set of ES2015 feature coverage and dependable performance, reliability, and scalability. And that's why, ChakraCore will be useful in many sectors; namely Internet of Things and cloud-based services. Besides, ChakraCore will open an opportunity in the future to make Microsoft Edge's testing on other operating systems a lot easier.
Gaurav Seth and Adalberto Foresti together mentions in the Windows blogs,
"We're investing more than ever in improving Chakra, and are excited to team up with our community to drive further improvements. In addition to the public, several organizations have already expressed interest in contributing to ChakraCore—among many others, we look forward to working with Intel, AMD, and NodeSource as we develop this community."
Chakra and ChakraCore: the best pair ever
This is how Chakra and ChakraCore's multi-tiered execution pipeline looks like.

The duo also mentions in the blog,
"We're excited about this milestone, and are hopeful that developing in the open will allow us to collaborate even more deeply with more developers around the world, resulting in better products for everyone."
Ever since Chakra came into existence, JavaScript's expanded a lot. Earlier, it was a language that powered web browsers. Now, it has evolved to become a technology that supports apps in stores, server side applications, cloud based services, NoSQL databases, game engines, front-end tools and most recently, the Internet of Things. Today, Chakra powers Universal Windows applications across all form factors where Windows 10 is supported such as on an Xbox, a phone, or a PC. It also powers services such Azure DocumentDB, Cortana and Outlook.com.
Read in detail about ChakraCore on the Windows Blog.