Taking a giant step towards tackling Cybercrime, Microsoft Corp announced the opening of the Microsoft Cybercrime Center.  Dedicated to make web a safer place, the Cyber Crime Center aims to track cyber crimes happening across the globe and assist law agencies globally crack down on such malpractices.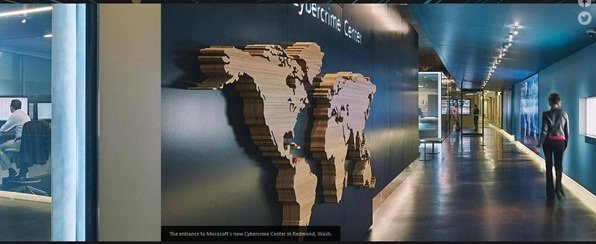 Every year millions of consumers across the globe are affected by cyber threats and malicious software putting a great risk to their personal and official information being exploited by others. Microsoft's Cybercrime Centre aim to bring such threats to the minimum by identifying or producing evidence that can be provided to national and international law enforcement so they can catch these criminals.
Speaking on the impact of Cybercrime, David Finn, associate general counsel for Microsoft's Digital Crimes Unit says,
"There are nearly 400 million victims of cybercrime each year. And cybercrime costs consumers $113 billion per year. We understand that there's no one single country, business or organization that can tackle cyber security and cybercrime threats alone. That's why we invest in bringing partners into our center – law enforcement agencies, partners and customers – into this center to work right alongside us."
The new cybercrime center inaugurated at Microsoft's Redmond campus boasts of world-class laboratory housing a seasoned team of cybercrime investigators engaged in tracking cyber crimes across, trying to stay a move or two ahead of the world's most odious Internet criminals in an effort to make the web a safer place for all.
According to Microsoft, the center is equipped with latest technologies that allow the team to visualize and identify global cyber threats developing in real-time, including Site Print, which allows the mapping of online organized crime networks. PhotoDNA, a leading anti-child-pornography technology; cyber forensics, a new investigative capability that detects global cybercrime, including online fraud and Online Identity Theft; and cyber threat intelligence from Microsoft's botnet takedown operations.
The Cybercrime Center also includes a separate location for its partners like the security experts from different corners of the world and working in collaboration with Microsoft.