Microsoft is taking the edge off reliability issues with its Windows 10 operating system. The software giant has outlined a new plan that focuses on streamlining automatic driver updates. As a result, the company's focus is on delivering driver updates automatically and in a timely manner. This way, Microsoft is hoping to significantly decrease the number of common reliability issues Windows 10 users encounter while working on their system.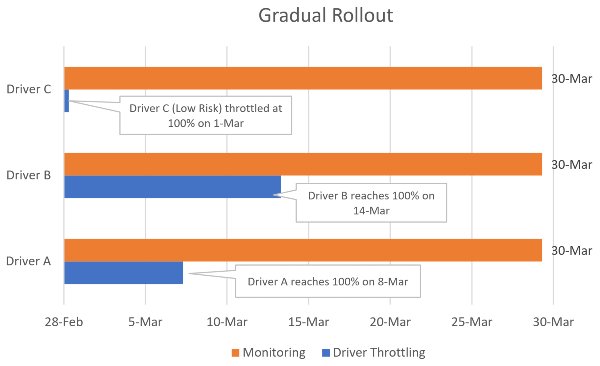 Microsoft outlines Gradual Rollout Plan
Recently, Microsoft rolled out a new feature – Manual Drivers, which allows OEMs to enable faster roll-out of driver updates via Windows Updates. Delivering updates faster and in a timely manner is important for ensuring security as well as reliability of your Windows 10 system.
Manufacturers have been delivering driver updates through Windows 10 Update for a while. But at first, the process was slower since OEMs had to send the update to Microsoft for testing and approval, something Microsoft addressed recently by rolling out Manual Drivers.
Windows 10 has a significantly larger userbase. Meaning, rolling out driver updates to a large number of PC users could result in reliability issues, system problems, software bugs and hardware conflicts on a much bigger scale. To address these issues, Microsoft will stick to a new plan — Gradual rollout.
The gradual rollout is supposed to ensure the availability of the best driver for each system:
"Should a driver appear unhealthy during gradual rollout phase, Microsoft may choose to pause the driver distribution for investigation and/or seek appropriate remediation, including a Microsoft-initiated driver cancellation (expiration)."
As part of the Gradual Rollout process, which is divided into two parts, the availability of drivers will be limited to computers running Windows 10 version 1709 and later operating system. The Gradual Rollout process is divided into two parts: The 30-day monitoring period and the driver throttling period.
Microsoft will roll out driver updates to the initial set of active Windows 10 population. This way, Microsoft will be able to determine the quality of the update before rolling it out to a vast percentage of Windows 10 users.
"Microsoft completes a risk assessment for each eligible driver and assigns a release throttle curve for that driver. A driver's risk is assessed against several factors including but not limited to flighting coverage and retail population."
It may not take 30 days to complete the rollout of driver update for all users, however, it will take approximately 30 days for your driver's Status to reflect the progress. The time frame of the process could vary depending on various factors such as proper assessment of the driver.