Microsoft is looking forward to completely overhaul its mail service – Outlook for Mac. The newer version will see some changes in the UI design alongside a few big improvements and enhancements to syncing.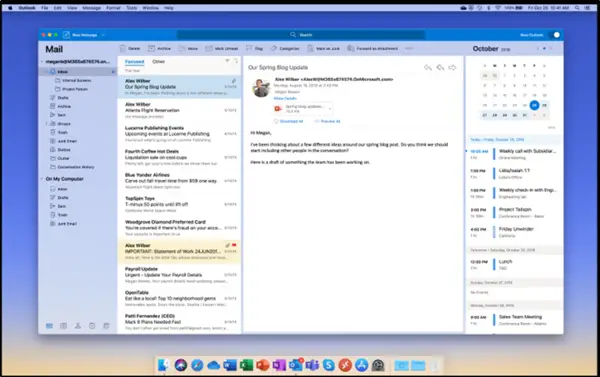 Outlook for Mac will support better Sync technology
The redesigned Outlook for Mac will support rich text editor in the new message compose area to make it easier for users to compose messages without leaving the main window. Also, Microsoft has added Groups to the Outlook for Mac Calendar to help users create and manage events on behalf of the Group. This experience will remind users about the personal calendar in Outlook.
Microsoft Search too makes an entry in the Outlook for Mac. It is powered by the same engine that runs in other Outlook and Office 365 experiences. This enables users to get consistent suggestions and faster results. There's also a Search bar located at the top of Outlook to get a quick glimpse of your recent history and people's suggestions to find information that's needed.
The new Outlook for Mac is powered by the Microsoft Cloud and connects using Microsoft sync technology. It brings updates across Mail, Search, and Calendar experiences that are designed for simplicity, reliability, and customization. The new experience is carefully crafted and specifically designed with the power of Microsoft Services to provide suggestions and insights that are relevant to you, and simplicity to enable you to customize the experience, wrote Jessica_Wilczek of Microsoft in a blog post
The new Outlook for Mac will let you schedule meetings, respond and send quick responses straight from the reading pane. It will also display small notifications about email status when sent. All in all, the new version intends to make reading and writing mail a breeze.
Finally, once you have enrolled yourself for Insider Fast, don't forget to turn on the 'New Outlook' toggle. When activated, it will enable Microsoft sync technology to switch quickly between the new Outlook for Mac experience and the current version in production. This way, users will get the first-hand experience about comparing the differences and trying new features, once released.