Most of the OEM's are looking out to reinvent the keyboard and as a result, we have been witnessing a  new range of smart keyboards including the ones offered by Microsoft and also the Lenovo Yoga Book's Halo Keyboard. It all started with Microsoft offering a detachable keyboard with its Surface lineup soon to be followed by Apple doing the same for their iPad Pro. Microsoft's latest patent showcase an E-ink keyboard cover.
E-ink keyboard cover patented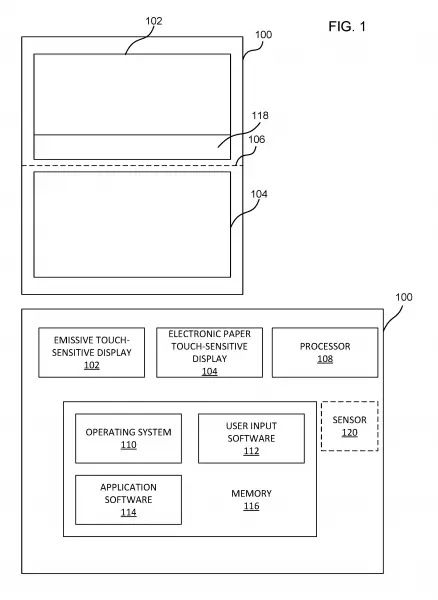 The patent was filed in September and it details a device that comes with a normal display along with an e-ink or e-paper display that covers the usual display and also acts as an actual cover case. That said the e-ink display in itself is not novel and the patent is all about how the two displays work in tandem.
The Yoga Book comes with a static display that is not etched out on the keyboard and it can change the content. However, Microsoft's patents showcase how the display can be changed beyond being used for touch input.
The best part, however, is the mention of a TouchBar kind of a feature. The regular screen will come with a section near the e-ink display that will display controls which will change according to the context or the apps that you use.The "Bar" detailed in Microsoft's patent is on the emissive side of the device and is not exactly a part of the keyboard.
That said this is just a patent and in all likelihood, it might take a couple of years for Microsoft to turn this into a reality. But again the technology might become available faster since all the components needed to manufacture the screen are already available. Microsoft had earlier conceived a similar device called Microsoft Courier only to be canceled later.