Donation is an act of giving something in charity. The term is very closely associated with philanthropists as they seek to promote welfare of others by making generous donations intended for their well-being. There are many non-profit organizations that strongly believe in spreading this goodwill but what hinders their efforts is lack of technological development. Here's where Microsoft Product Donations Steps in. The organization aims to empower nonprofits with technology to help them do what they do best: creating more good in the communities they serve.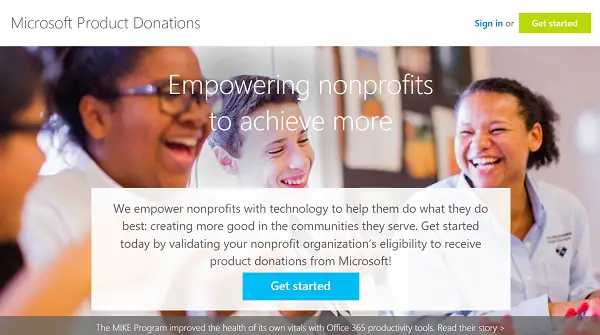 Microsoft Product Donations
The new Non-profit website offers product donations and discounts through its various programs. Any non-profit organization interested must first validate its nonprofit organization's eligibility to receive product donations from Microsoft! These organizations can define their eligibility bu fulfilling the following criterias.
Nonprofit and nongovernmental organizations must:
Hold recognized, legal charitable status as defined in their countries;
Operate on a not-for-profit basis;
Have a mission to benefit the broader community;
Attest to Microsoft's anti-discrimination policy.
Please note that members or beneficiaries of the nonprofit organization are NOT eligible for nonprofit licenses or subscriptions. For checking the eligibility and validating the non-profit organizations, Microsoft has partnered with TechSoup.
As part of the process, TechSoup reviews applied organization's mission and activities. It uses publicly available and locally relevant information and compares it with the eligibility criteria for Microsoft's offerings to non-profit establishments.
What does it have to offer?
Cloud Services
Eligible organizations can access Microsoft Cloud offers, such as Office 365 Nonprofit and Power BI Pro for Nonprofits, for free or at a significant discount through our Cloud Services Program.
Software
Eligible nonprofit organizations can receive perpetual Microsoft software license donations through its partner, TechSoup, and their worldwide network of TechSoup affiliates. After an initial order of five or more licenses, one can reorder as few as one license at any time.
You might want to check it out.