A few days ago Microsoft rolled out a major Windows 10 November update or "Fall Update" or "Version 1511″. It was worth updating as there were some cool features. However, the process wasn't a smooth affair for some Windows users. The first problem encountered was the upgrade not showing up in Windows Update. Other users reported progress installing the Windows 10 November update stops responding at 44%.
Microsoft pulls down Windows 10 November Update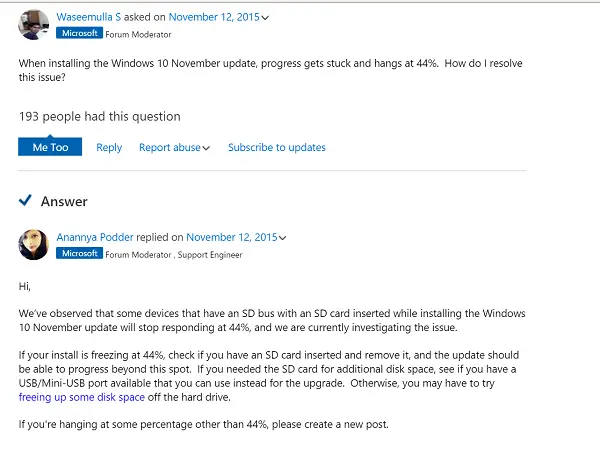 Upon complaining the issue to Microsoft community, a solution was offered. Did it work? Not much! The solution pointed, if the install freeze at 44%, check if you have an SD card inserted. If yes, remove it, and the update should be able to progress beyond this spot. If user needed the SD card for additional disk space, check for a USB/Mini-USB port available that they can use instead for the upgrade. Otherwise, try freeing up some disk space off the hard drive. This method too, didn't work.
Microsoft seems to have therefore decided to pull its released November Update from both the Media Creation Tool and Windows Update.
As such, users who do not currently have the update on their Windows 10 device won't be able to download it directly now. The Media Creation Tool instead of Build 10586, serves Build 10240. The text of the line displayed on the page simply reads as-
"These downloads cannot be used to update Windows 10 PCs to the November update (Version 1511)".
Likewise, when you try and install any update via Windows Update you'll receive the same build.
Microsof has released the following offiicial statement, as can be seen on Microsoft Answers:
The November update was originally available via the MCT (Media Creation Tool), but the company decided that future installs should be through Windows Update. People can still download Windows 10 [Build 10240] using the MCT tool if they wish. The November update will be delivered via Windows Update. Microsoft has not pulled the Windows 10 November 10 update. The company is rolling out the November update over time – if you don't see it in Windows Update, you will see it soon.
Was it a serious bug? Or was it something else? We will never really know. One thing is clear however, is that if you have not installed it till now, you will have to wait till it is offered to you via Windows Update.
UPDATE: Windows 10 November Update version 1511 is now available again via WU, MCT, Tech Bench.
Read: Things you want to know about the Windows 10 November Update.