Brand new Bing is all set to make its way through the search engine market beyond the world of Microsoft alone. This week we saw a much enhanced and dynamically designed Bing, which can be easily accessed across mobile platforms, promising a much better user experience.
Going with the flow, the recently released iOS 7 update will also see Bing search results in Apple's voice tool, Siri. The Bing Search makes Siri more productive by offering different search results within the application, so that saves the user's time to go out and fetch results from the browser. For instance, when the user asks a question, Siri will reply with a direct answer or fetch relevant search results from Bing in the form of website links, images, video, etc.
What's new in Bing for iPhone
Quite recently Bing was happy to release an updated version, which offered an enriching browser experience for Android, iOS and Windows Phone. And now, they have announced another upgrade of the Bing app for iPhone and iPod touch which enables multi-tasking and timely output.
Homepage Add-ons: Bing has added four new tiles on the home page, wherein the user can carry out their daily tasks, check the latest news and images with the help of Bing Trends search for nearby locations on a map and check weather updates.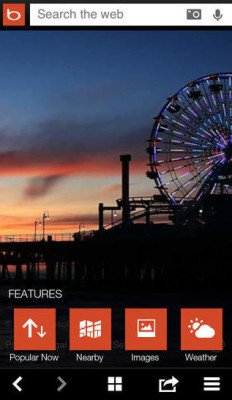 Save & share option: The upgraded Bing comes with a share button which enables the user to easily share images through Facebook and Twitter and not just that, the user can even capture the screen shot of the image on the homepage, the search results page or any image from the Bing Image search.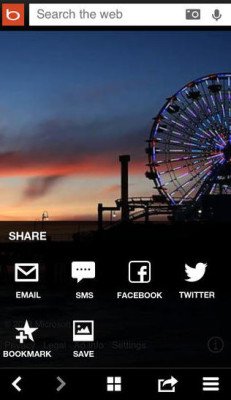 A fresh Menu: The updated Bing Menu offers a whole lot of options like the user can browse through the screenshots captured, saved images and bookmarks and also has the agility to sign in with their Microsoft account in order to sync the files with SkyDrive or the iPad application. The 'More Microsoft apps' options let the iOS user explore numerous options like Office Mobile, OneNote, Skydrive and much more!
With so much to offer, I'm sure this new, much improved Bing will be a raging success amongst the iOS users. Download the new Bing App today and share your Bing experience with us.