Following up on the earlier launch of Developer Preview of Internet Explorer 11  for Windows 7 about two months ago, Microsoft today launched a Release Preview of IE 11 browser for Windows 7. Believed to be the last of the update releases before the final version of Internet Explorer 11 for Windows 7 is out later this fall, it promises to be 30% faster than the other browsers with developer tools improvements and updates to support latest web standards.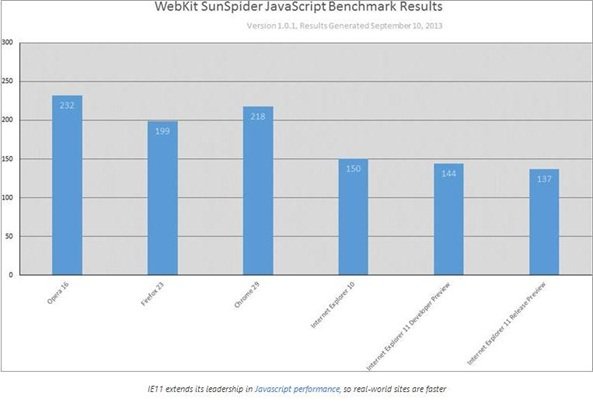 Internet Explorer 11 Release Preview for Windows 7
Talking about the release at the IE Blog post, Microsoft said,
"Internet Explorer 11 advances the performance leadership of our JavaScript engine, Chakra, while ensuring compatibility, interoperability, and security. As we improve performance for real-world sites, IE11's JavaScript performance on benchmarks like WebKit SunSpider continues to lead compared with the latest version of other browsers. On Windows 7, IE11 Release Preview is 9% faster than IE10, which is a 5% improvement from the IE11 Developer Preview, and over 30% faster than the nearest competitive browser".
According to Microsoft, the new IE 11 release preview for Windows 7 would bring following added benefits to its users.
Support to more web standards and increased compatibility
The new IE Release Preview now supports an un-prefixed version of the emerging standard and With Pointer Events support across the full range of Windows devices (and soon to other browsers), Web sites can easily build experiences that work equally well with the mouse, keyboard, pen, and touch.
Faster and Better Web Experience
As Microsoft claims, IE11 is not only 30% faster  than any other browser but it also provides the best Web experience across the full range of Windows devices and screen sizes with mouse, keyboard, and especially touch.  IE 11 Release Preview for Windows 7 and Windows 7 64 bit Edition and Windows Server 2008 R2 64-bit is already available at the download center.
Better Tools for Developers
Based on the feedback of many, Microsoft has included several tools enhancements to increase developer productivity. These include improvements in Console, Debugger, DOM Explorer, Memory and Networking.
Don't miss "Browser You Loved to Hate campaign"
Microsoft has found a unique way to embrace the new launch by adding more to its "Browser You Loved to Hate Campaign". Branded under the theme "Rethink Your Relationship with Internet Explore", don't forget to check out the video.