Microsoft has published its bi-annual Law Enforcement Requests Report that talks about the long-help policies that Microsoft follows, in responding to requests that are received from law enforcement agencies, on customer information from all around the world. The report also mentions the security related data request that Microsoft receives from the U.S. government on the basis of national security.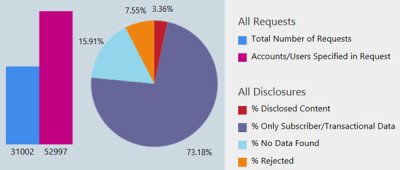 Microsoft Law Enforcement Request Report
Microsoft's bi-annual Law Enforcement Request Report has some key takeaways for you, as a reader.
1] A high percentage of such requests, do not meet Microsoft's standard of exposing information. The report covers a period starting from July 2014 until December 2014. During this period the total number of requests that the company received is 31,002 bringing the yearly total to 65,496. The number of requests this year is lesser than what it was in the year of 2013 when requests totaled 72,279.
2] Among the request received by the company in 2014, Microsoft disclosed 3.36 percent of cases belonging to content data like email messages while non-content data like users' names and IP addresses accumulate up to 73.17 percent of cases. The number of requests that were rejected as there were not meeting the legal requirement also increased. In 2013 the number of rejected requests was 2,105, which almost doubled this year reaching out to 4,379 in number.
3] Turkey, France, Germany, the United Kingdom and the United States government agencies had made around 70% of the requests. Another report, called as U.S. National Security Order Report , shows that Microsoft received around 1000 National Security Letters between the periods of June to December 2014.
4] The request made under the Foreign Intelligence Surveillance Act from January through June 2014 are also included in U.S. National Security Order Report where FISA court orders are subject to a six-month reporting delay. John Frank, Microsoft's assistant general counsel and vice president for legal and corporate affairs, demand for strong changes in the government practices and data request policies that could enhance the security of product and services that is being used by millions of people all around the globe.
Says Microsoft,
"The bottom line is that while governments only request data on a very small fraction of our customers, governments are seeking to alter the balance between privacy and public safety in a way that impacts everyone,".As we have said before, there are times when law enforcement authorities need to access data to protect the public. However, that access should be governed by the rule of law, and not by mandating backdoors or weakening the security of our products and services used by millions of law-abiding customers. This should concern all of us."
Stay tuned to TWCN Tech News, to get the lates in the world of Microsoft and Windows.