Microsoft has announced new privacy tools for Windows 10 users that will allow you to find out how much data Windows 10 is sending back to Microsoft. At this juncture, the tool is available for Windows Insiders and will soon be available for the main build users as well. Microsoft is also considering overhauling their Privacy Dashboard in order to allow users to manage the data in a much more efficient way. Let's take a quick look at the Privacy tools that Microsoft has released,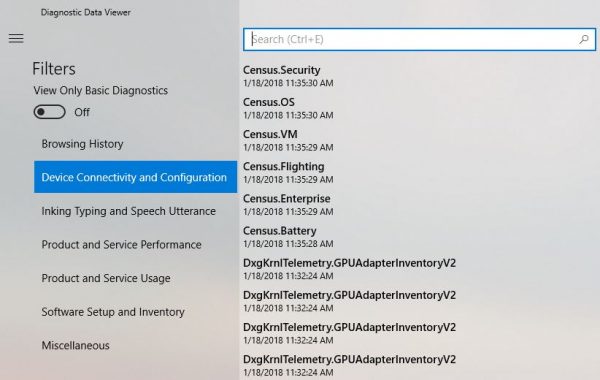 Windows Diagnostics Data Viewer
Microsoft has been taking the flak ever since it introduced the telemetry services. The criticism has only increased after the company removed the option to opt out of the telemetry feature. However, Microsoft is now all set to mend its ways and as a result, is offering a new way to see all the diagnostics data that the company gathers from the user. All of this data is displayed in a dashboard format in a tool named "The Windows Diagnostic Data Viewer." This feature will allow users to view, search and also take action on the diagnostic data.
With this kind of transparency, Microsoft is certain to reduce the backlash and earn back the trust of its users. I personally feel that users will now be comfortable with the Telemetry data collection since they can view what is being shared and also control the flow of data.
Microsoft Privacy Dashboard
Microsoft has now revamped its Privacy Dashboard and updated the same with a new "Active History" page. This page will show all the data that is saved in the Microsoft account. In some sense, the feature will be pretty much similar to the Google's "My Activity" page. Once again users will be able to tweak the settings and can choose the kind of data that is being collected. Additionally, users can also monitor media consumption, export the data locally and also delete specific items.
In all likelihood, Microsoft has done this in order to comply with the upcoming General Data Protection Regulation which is much more stricter than the existing Data Protection Authorities.
You can visit Microsoft for more details.