With the official announcement of Windows 11, the folks at Microsoft explained that in order for Windows 10 users to find out if their computer can run the new operating system, they had to make use of the PC Health Check Tool.
Unfortunately, the app only caused more confusion, and as such, the software giant has decided to remove the app for the time being. The company states chose to get rid of the app due to the multitude of negative feedback from Windows users around the world. From what we've gathered thus far, the plan is to return the app online in the Fall, just in time for the general availability of Windows 11.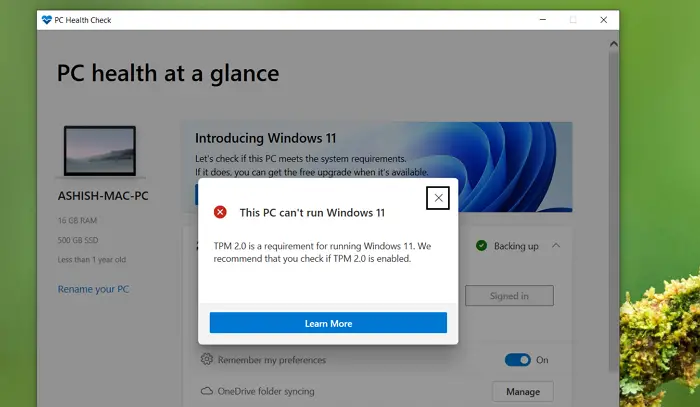 Windows 11 PC Health Check Tool has been removed
Here is what the company had to say in full detail:
With these minimum system requirements in mind, the PC Health Check app was intended to help people check if their current Windows 10 PC could upgrade to Windows 11. Based on the feedback so far, we acknowledge that it was not fully prepared to share the level of detail or accuracy you expected from us on why a Windows 10 PC doesn't meet upgrade requirements. We are temporarily removing the app so that our teams can address the feedback. We will get it back online in preparation for general availability this fall. In the meantime, you can visit the minimum system requirements page here to learn more.
If you meet the minimum requirements, you can download and install Windows 11 Preview to your computer right now. Bear in mind that since this is the preview build, it may not perform as well as you might like.
Furthermore, some of us at TheWindowsClub, who installed Windows 11, had to roll back to Windows 10 due to performance issues with some software.
So, as it stands, do not install Windows 11 on your work computer until the full release in a few months from now.
Meanwhile, you could make use of the third-party app called WhyNotWin11 to find out if your PC can run Windows 11.